Our news
Laya Healthcare named one of Ireland's First Healthy Places to Work
Laya healthcare has been awarded a Healthy Place to Work certificate and is just one of four Irish organisations to receive this new prestigious recognition. Healthy Place to Work, which is awarded by Great Place to Work Ireland, is the global standard for healthy workplaces and was piloted in late 2017.
Laya healthcare is one of four to be awarded accreditation for their efforts to provide a healthy work environment and positive initiatives to our team of over 500, in our Cork and Dublin locations.
Laya healthcare was the only health insurance provider to be piloted and awarded.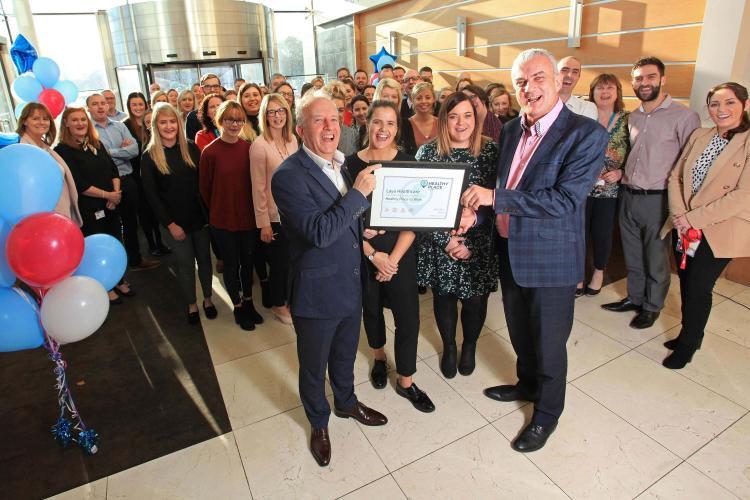 Over €18,500 raised for Irish Heart Foundation in memory of Majella Duffy
Laya healthcare recently held our Annual Charity Day in aid of the Irish Heart Foundation, raising over €18,500 for the charity. This year's event was particularly poignant as it was held in memory of colleague and friend, Majella Duffy, who tragically passed away while climbing Mount Kilimanjaro last July.
Majella, just 35, was completing the climb in her ongoing efforts to fundraise for the Irish Heart Foundation in memory of her father, Mike.
Kristene Stafford and Trish Lynch from laya healthcare, presented the cheque to Majella's mum, Bernie Duffy, along with to Ann Riordan from the Irish Heart Foundation.
In recognition of Majella's adventurous and generous spirit, the Annual Charity Day saw the team at laya healthcare take part in a variety of fun challenges, all the while digging deep to raise money for the deserving Irish Heart Foundation.
At the presentation to the Irish Heart Foundation, Bernie said: "The Irish Heart Foundation is very close to our family's hearts. It's a difficult and emotional time for us but it is wonderful to see Majella's charity work and spirit of giving continued by her friends and colleagues in laya healthcare".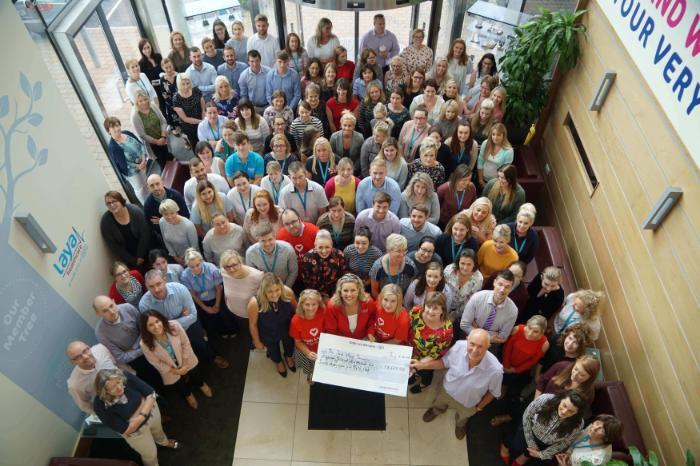 Launch of 24/7 Mental Wellbeing Support Programme
In the first move of its kind by a health insurer in Ireland, laya healthcare has announced the launch of its 24/7 Mental Wellbeing Support Programme, an exclusive new benefit that gives its members access to a range of confidential support services to help them maintain positive mental health and wellbeing.
From 1st July 2018, all laya healthcare members aged 16+ can access the 24/7 Mental Wellbeing Support Programme from their renewal at no additional cost and benefit from immediate help and support in managing any personal issues they might be facing.
Laya healthcare's 24/7 Mental Wellbeing Support Programme provides a broad range of support for a range of services, including:
Advice on practical, day-to-day issues that cause anxiety and stress
Legal Assistance for a range of issues
Financial Assistance & Consumer Advice
Career Guidance & Life Coaching
Mediation for conflict resolution


Read more here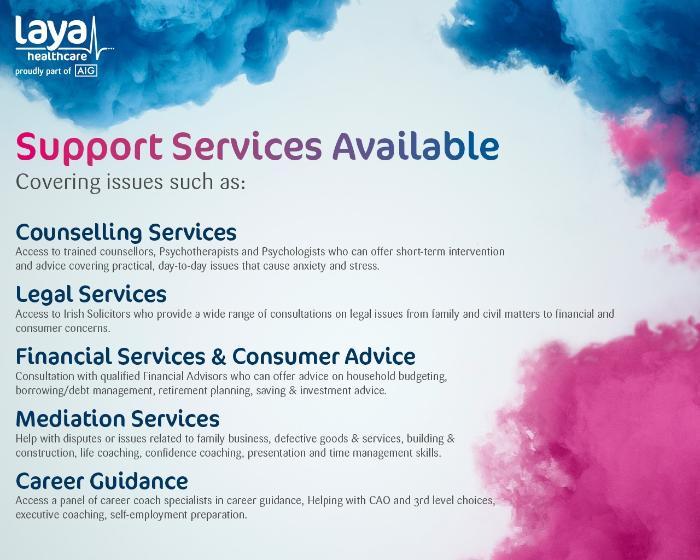 ---
Say hello to healthcoach
In the first move of its kind by a health insurer, laya healthcare today announced the launch of a new healthcoach benefit, available to members aged 18 years+ at no additional cost[1], giving them access to a face-to-face consultation with a qualified Healthcoach who will design a personalised 8-week health programme encompassing all aspects of their health including fitness, nutrition and mental wellbeing.
Read more here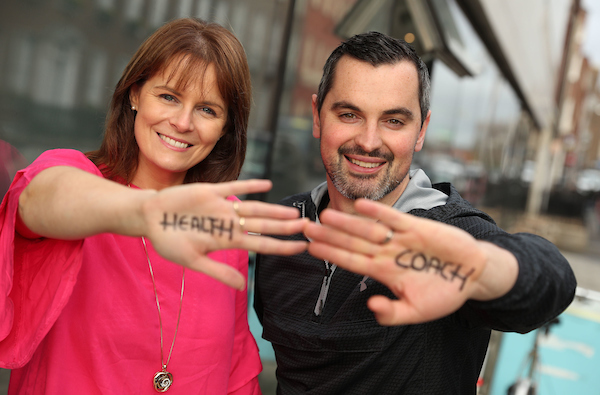 ---
[1] Healthcoach benefit is free to all members aged 18+ years. Entry level or non-advanced scheme members will pay a subsidised rate for a face-to-face consultation with a Healthcoach
---
78% of Irish adults say it's unacceptable for health insurance holders to pay twice for treatment in public hospitals
Over three quarters of Irish adults feel that charging those with private health insurance for treatment in a public hospital twice, once through general taxation and again through their policy, is unacceptable according to a nationwide poll conducted by Ipsos MRBI. While up to 82% of respondents with health insurance considered this practice unacceptable, a broadly similar sentiment was expressed by those without a health insurance policy (73% consider unacceptable).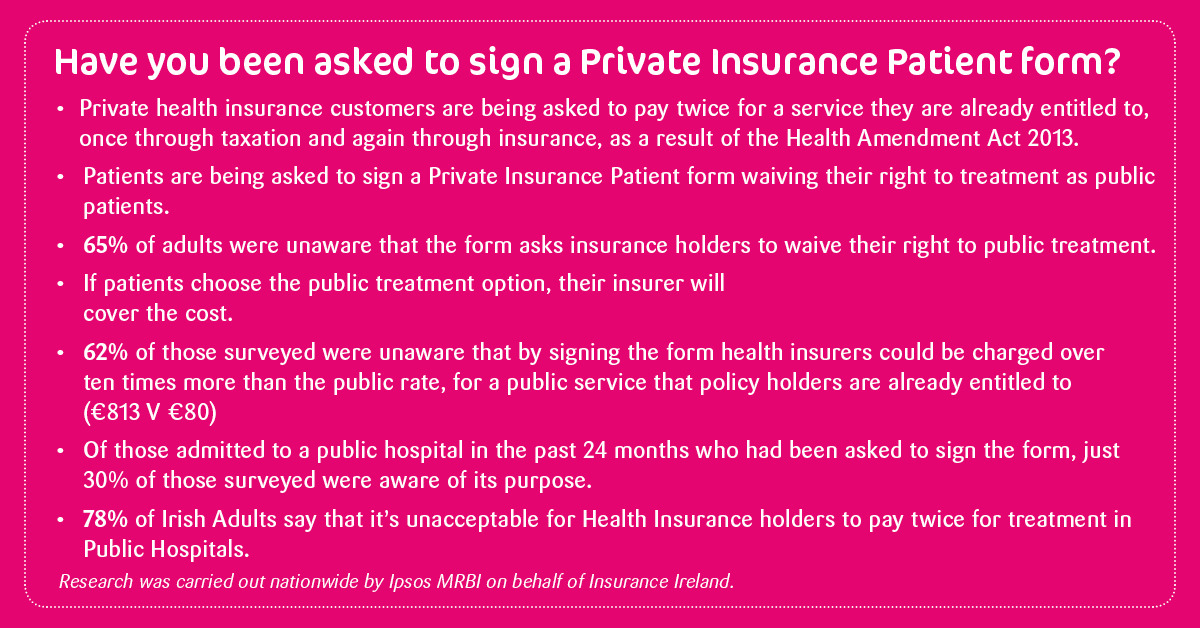 ---
We've joined up with Leinster full-back Rob Kearney to launch our HEAD ON Concussion Management Programme.
***this offer is no longer available***
The HEAD ON Concussion Management Programme will deliver 1,350 baseline screenings to amateur rugby players aged over 16 years from Leinster clubs, free of charge. A 20% discount on the screening is also available to all other Irish rugby clubs.
Laya healthcare is investing €100,000 in the initiative, the first major public health programme as part of laya healthcare's Health & Wellness Partnership with Leinster Rugby. To date, more than eight million people worldwide have been screened using the technology behind laya healthcare's concussion management programme.
Registration for the HEAD ON Concussion Management Programme is simple. Simply call our Freephone number 1800 844 864 or email headonconcussion@layahealthcare.ie. Baseline screenings will be rolled out in March 2016, with follow-up screenings available to players if required. Laya healthcare is also offering a 20 per cent discount on the cost of screenings for any other Irish rugby clubs outside Leinster.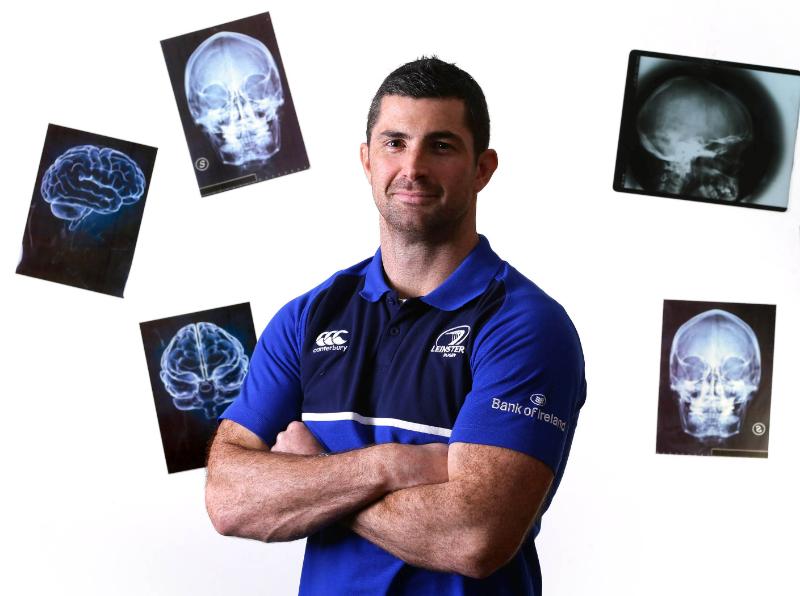 ---
Over €13,000 raised for Annual Charity Day 2015
Following our very successful Charity Day this year, a cheque presentation was recently made to our three worthy charities; the RNLI - Royal National Lifeboat Institution, Breakthrough Cancer Research and Pieta House, with each charity receiving a donation of almost €4,430.
The fundraising efforts included a 5km fun run, shave or dye, bake sale and a pop up vintage shop.
Pictured at a cheque presentation are Eolan Walsh and Diarmuid Walsh, on behalf of the RNLI, Orla Dolan on behalf of Breakthrough Cancer Research and Pat Duffy, on behalf of Pieta House with Dónal Clancy, Managing Director Laya Healthcare and Laya Healthcare team members.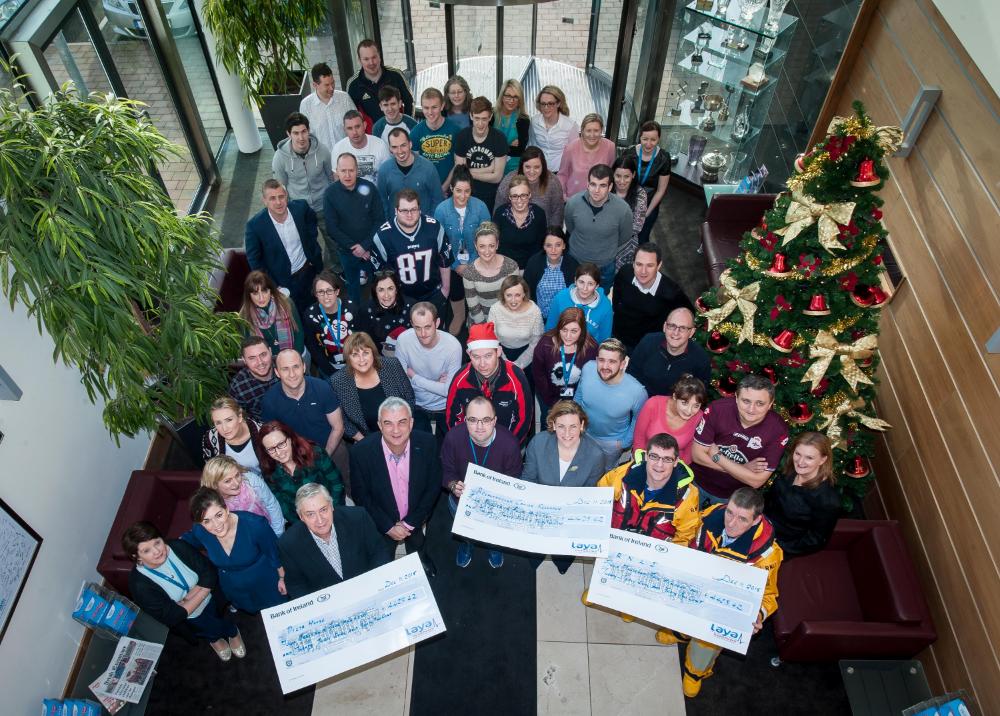 ---
Super Troopers with Laya Healthcare
Super Troopers with laya healthcare, which encourages teachers, parents and children to treat the task of daily physical activity with the same importance as their regular school homework and other subjects, is now in place in more than 1,000 or one third of all Ireland's primary schools.
The programme has been designed by teachers for teachers and is backed by leading clinical psychologist and parenting expert, David Coleman. Coleman explains that the unique part of the Super Troopers initiative is that it is a long-term habit-changing programme for children to encourage positive attitudes towards healthy eating, well-being and exercise and not a quick-fix solution.
"Super Troopers is unique in that it is the first health programme that bridges school with home, and connects kids with their 'triangle of influence' - peers, teachers and families - to get more active and learn healthy habits together. It is building good habits from a young age," said Mr Coleman.
Running over 30 weeks and involving teachers, parents and children aged 4-12 years,Super Troopers provides an easy-to-follow physical activity homework planner based on short-burst activities that combine daily exercise with imaginative fun.
"The aim of Super Troopers is daringly simple," said Lorraine Walsh, Head of Marketing at laya healthcare. "We want to instil positive health habits in kids and embed them in a powerful, impactful way that allows them become healthier adults. That's the ultimate goal."
Registration for Super Troopers is open for a limited time; primary schools and teachers who have not yet signed up for Super Troopers have until Friday, 30th October 2015 to register. For more information go to www.supertroopers.ie or call 01 522 48 48.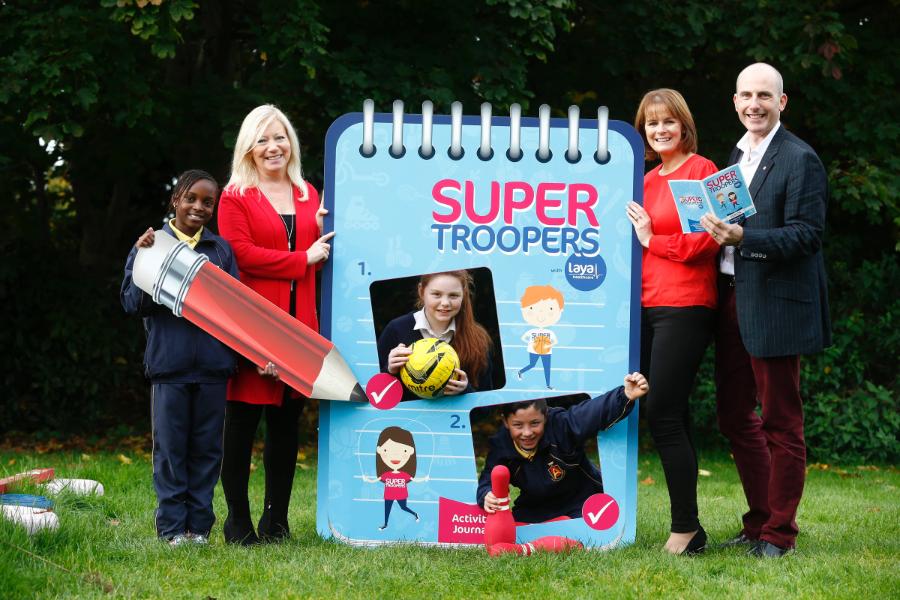 ---
Laya Healthcare is Leinster Rugby's Health & Wellness partner
We are pleased to announce that we are the official Health & Wellness Partnerto Leinster Rugby. This exciting sponsorship will entail us working alongside Leinster players and backroom medical and fitness experts to promote a series of high-profile public health and wellness initiatives.
As Leinster Rugby's Official Health & Wellness partner, we will also work closely with Leinster Rugby's expert backroom team including fitness experts, nutritionists and physiotherapists, to create a series of engaging and informative content to share with laya healthcare members, Leinster Rugby fans, and the general public.
Commenting on the union, Dónal Clancy, Managing Director at laya healthcare says, "Our Health & Wellness agreement with Leinster Rugby marks a major and very positive step in our ambition and commitment to health and wellness; not just for our members but for the wider public too."
The partnership sees Leinster Rugby's Senior squad, Under-20, Under-19 and Women's Rugby team all carry the laya healthcare brand on their shorts.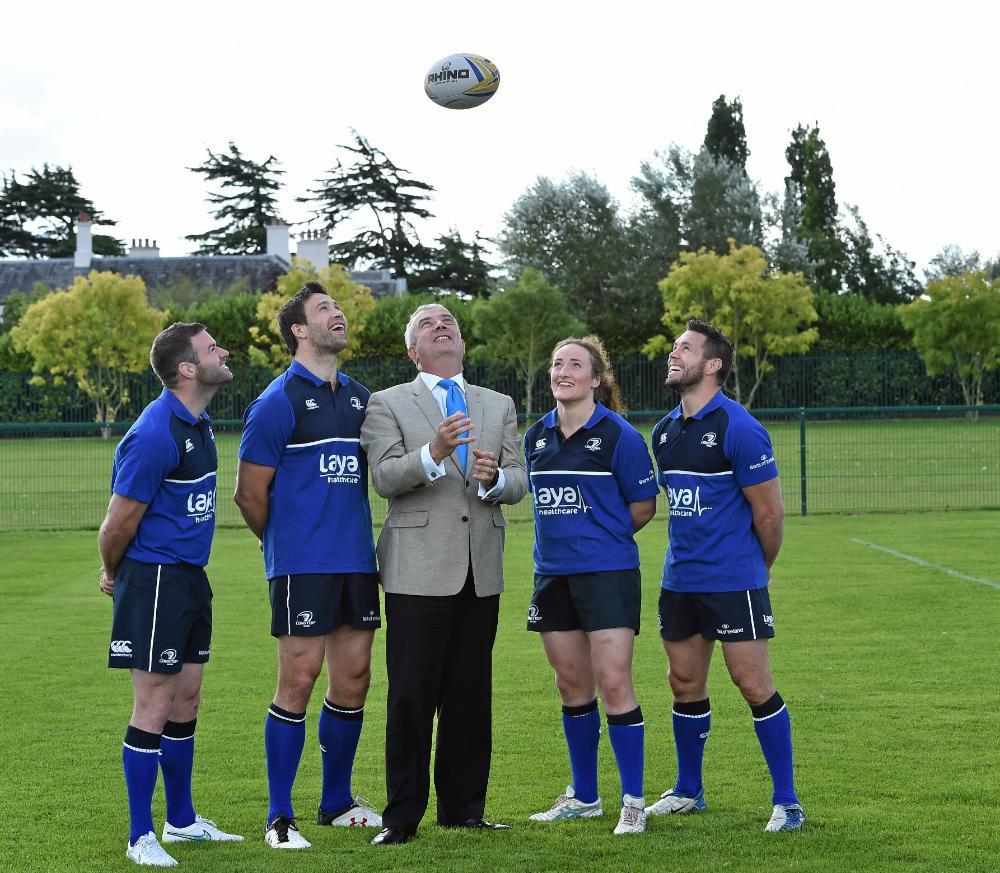 ---
Gordon D'Arcy is backing Laya Life
New dad Gordon is backing laya life's campaign to encourage new parents to consider the cost of raising kids, and the importance of putting financial protection like life insurance in place to ensure their family is protected should the worst happen.
"Like most parents, Aoife and I planned for our daughter's arrival but once she arrived we knew we would have to plan further down the line to make sure she would be okay no matter what," Gordon said.
"Life insurance was a big decision for us, and we've put a plan in place with laya life to give us some peace of mind should the worst happen."
Learn more: https://www.layalifeinsurance.ie/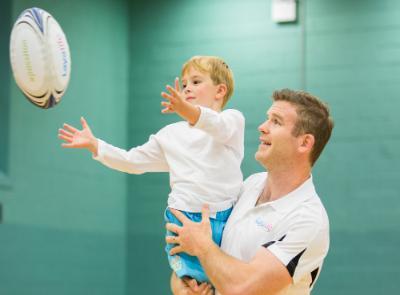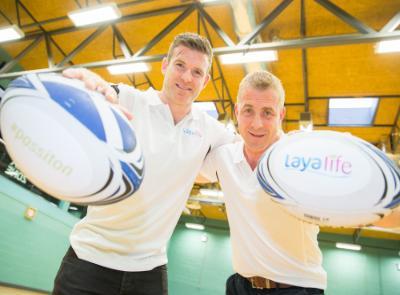 ---
Looking after Lidl hearts
We are delighted to partner with Lidl Ireland to help bring Ireland's largest corporate cardiac screening programme to their employees.
Pictured at the launch of Lidl Ireland's Health & Wellness programme are Michael Lyster, RTÉ Broadcaster and presenter of The Sunday Game and Paul Martin, Head of HR Lidl with the Lidl team and Patricia Hyland, Director of Sales here at laya healthcare.
The programme involves Ireland's largest corporate cardiac screening programme provided by laya healthcare's HeartBeat cardiac screening service and a Walk to the Moon Step Challenge, available to all employees, getting Lidl's 3,200 strong team walking the 325,000 kilometres to the moon in aid of Lidl Ireland's charity partner Barretstown. On reaching the moon, Lidl Ireland will donate €50,000 to Barretstown bringing their total donations to the children's charity to over €900,000
Watch out for our HeartBeat cardiac screening bus at Lidl locations around Ireland until October 13th.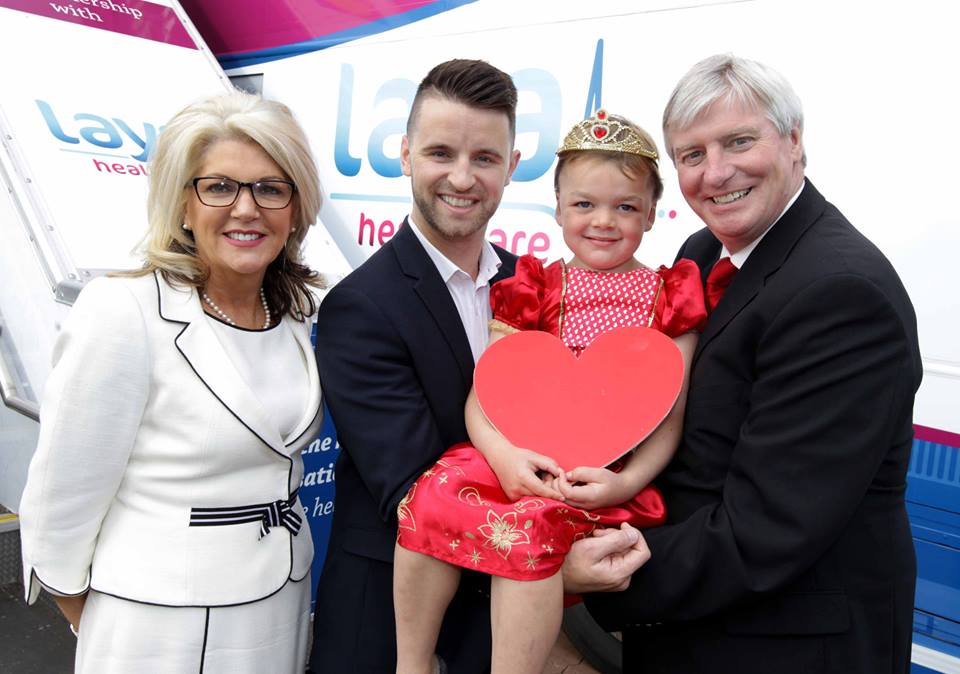 ---
AIG sale now complete
Our sale to international insurance organisation, AIG, has been completed. This new partnership will sow the seeds for a strong, vibrant future at laya healthcare, where we have ambitious plans for future growth and diversification.
The completion of the sale underpins AIG's declared commitment to accelerate the growth of its health business in Ireland and other key European markets. Here at laya healthcare, we have outperformed the market in recent years and we now look after the healthcare needs of almost 500,000 members; representing 24 per cent of Ireland's private health insurance market.
Commenting on today's announcement, Dónal Clancy, Managing Director of laya healthcare said, "From the very outset of our negotiations, our partners in AIG have been exceptionally encouraging and committed to our ambition to grow laya healthcare into one of the most progressive and member-obsessed health insurance businesses in the market. We are growing our business ahead of the market by fulfilling our promise to provide the best value health insurance and by following through on our commitment to look after our members always. 2015 looks set to be another strong performing year for laya healthcare and now with the support of our new owners, AIG, our outlook is even more optimistic."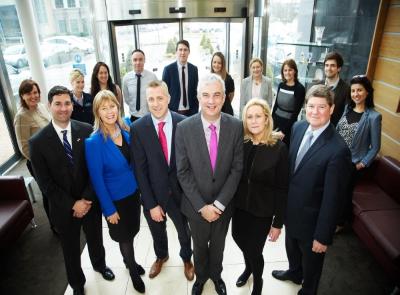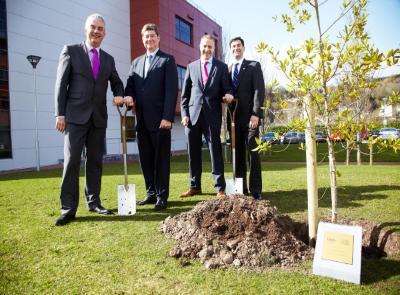 ---
Protecting our members' data
We have just announced a deal with IT security provider Ward Solutions in order to protect our members against emerging threats. With over 475,000 members we have a huge amount of confidential client data. Working to protect that information from potentially being accessed by hackers, Ward Solutions recently carried out a full risk assessment on our behalf, which has led to the introduction of an improved security management system.
Ian Brennan our Director of Information technology said "We are committed to reinforcing the protection of our entire confidential customer data on an on-going basis; Ward Solutions has helped us join the dots across the organisation and has provided us with a complete overview of our information security environment. The resulting reports have enabled us to become more proactive as we mitigate risk in the ever evolving security landscape"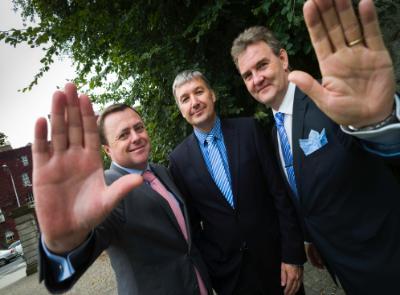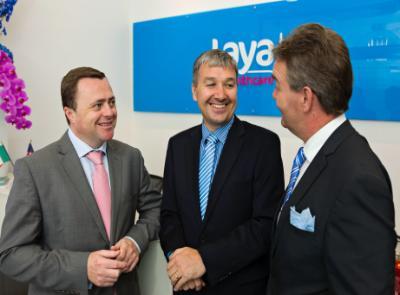 ‌
---
Wheels spinning raises vital funds for Crumlin! #Spin4Crumlin
Fantastic support was shown by the public who gathered in Opera Lane last Friday to cheer on a team of laya healthcare volunteers who mounted their bikes at the Laya Healthcare Spin-a-thon, to spin the long 496km return distance from Cork to Our Lady's Children's Hospital Crumlin. Spinners took to the saddle from 9am to 6pm, and we were overwhelmed by the generosity of the Cork public who donated to this fantastic cause.
All proceeds raised are going to the Children's Medical and Research Foundation, the principal fundraising body for Our Lady's Children's Hospital Crumlin. We've worked hand in hand with the Children's Medical and Research Foundation, to help the foundation raise almost €100,000 this year. RedFM's Philip Bourke was on hand to spin the Red Hits while our volunteers spun it up for a great cause.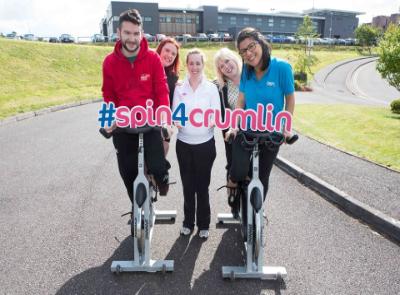 ‌
---
Over €10,000 raised during our Charity Day 2014
Following our very successful Charity Day this year, a presentation was made to our three chosen charities; the Irish Sudden Infant Death Association, The Aileen Fund and Our Lady's Children's Hospital, Crumlin. Our team took part in a wide variety of activities to raise vital funds for the three worthy causes, including a 5km lunchtime run/walk, a football target game, a car wash and a pop up vintage shop. Laya healthcare matched the money raised by the team, amounting to a total of €10,482, with almost €3,500 being donated to each of the chosen charities.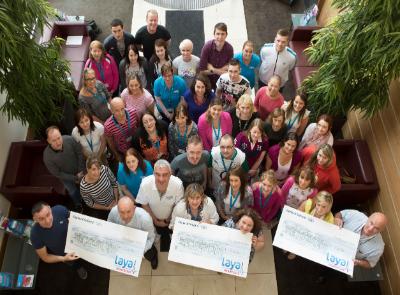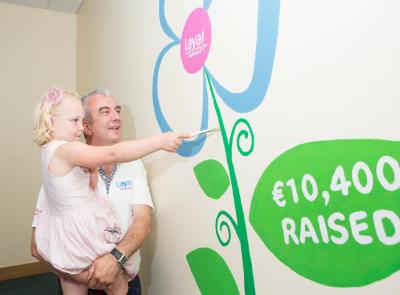 ‌
---
Live Q&A with Dr. Maureen Griffin - 28th August 2014
We are delighted to announce that we will be holding a live Q&A session with Dr. Maureen Griffin over on MummyPages. Dr Griffin will welcome questions around social media, cyber-bullying and internet & mobile phone safety.
Dr Griffin is Director of MGMS Training Limited and as part of her work, she has visited over 400 schools (primary & post primary) and organisations across Ireland speaking with students, staff, BOM members and parents regarding issues around social media, cyber-bullying and internet & mobile phone safety. Maureen has also delivered presentations around social media for the HSE, Brothers of Charity, NEPS, Gardaí and the NAPD. Maureen has presented at the ILSA Conference, CESIT Conference, 4th Biennial Child Protection & Welfare Social Work Conference, UCC and Youth Mental Health Conferences across Ireland.
She holds an honours degree in Applied Psychology, an MA in Forensic Psychology and a Ph.D. in Applied (Forensic) Psychology. Maureen lectures in the areas of abnormal psychology, mental health and crime, sexual offenders, online internet solicitation and risk assessment on Forensic Psychology, Criminal Behaviour & Criminalistics courses in Universities across Ireland. Maureen has delivered lectures on Detective and Sergeant Training Courses in An Garda Síochána and has delivered guest lectures to the Irish Navy and Military Police with the Irish Defence Forces.
We hope you can join us! Feel free to submit your questions beforehand on our Facebook page - just click here. ‌
---
Laya Healthcare City Spectacular - Dublin & Cork, July 2014
The countdown is on! Laya Healthcare City Spectacular is a free festival to entertain 300,000 people with performances, music, artisan food and much more this summer! Ireland's biggest and best-loved free family festival, the Laya Healthcare Street Performance World Championship, has undergone a full makeover and rebrand. With over 300,000 attending last years' events, this year's Laya Healthcare's City Spectacular will transform Dublin & Cork into spectacular civic celebrations.
Come and witness Ireland's largest family festival transforming your city this July, with free festivals in Dublin's Merrion Square (July 11th – 13th), Cork's Fitzgerald Park (July 19th & 20th) and a citywide program of events both day and night across Dublin City (July 11th – 27th).
With guaranteed giggles from street performers, bands to bop to on the music stage and fancy food to feed the whole family; these parks will transform into the urban heart of summer. Come along and meet our team at 'Laya Healthcare's Playaground' which will bring a corner of the countryside to the streets around Merrion Square with fake grass, picket fencing, and a petting zoo. Kid's shows run throughout the weekend encouraging creative thinking for little minds. The 'Today FM Irish summer' area is a throwback to all we love about summers in Ireland, think crisp sambos, red lemonade, windbreakers and tunes from your favourite Irish summers of youth. The 'Spark Your Imagination' area is brain food for our little ones with educational workshops galore, and the 'Outdoor Living Room' will be your home away from home.
For more information and the full programming schedule, visit cityspectacular.com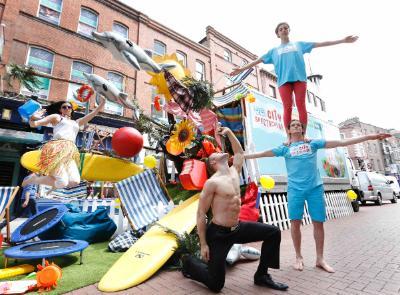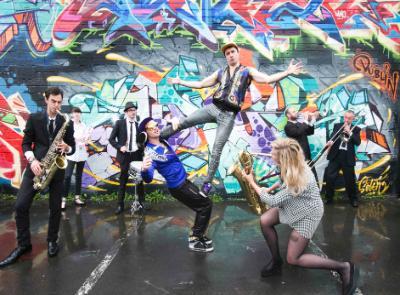 ‌
---
Our Medical Costs Management Programme achieves significant cost savings
We recently announced the results of a major medical costs management programme, which has already resulted in significant claims cost savings. Almost €100 million in savings is predicted as a result of the review over the five year period from 2012 to 2016 and we believe that the savings over time from the medical cost management programme can be passed on to its members and will lead to better value for consumers.
Read more here
---
Official opening of our new Dublin HQ
Two of the greatest Irish rugby players to wear the number 10 green jersey, Ronan O'Gara and Johnny Sexton helped us to launch our new Dublin office on Wednesday May 21st. Ronan and Johnny shared their unique story of rivalry, building their relationship and overcoming adversity during an intimate Q&A session in our new abode.
The new laya healthcare Dublin office is located on 1 Hume Street in Dublin City Centre. Welcoming the opening, our MD Dónal Clancy said: "Since we first launched laya healthcare in May 2012 we have consistently recorded growth in the Dublin market; overall, our membership in this region has grown by more than 16 per cent since launch to date. Last year, we recorded our strongest performance yet, with corporate sales growing by over 70 per cent".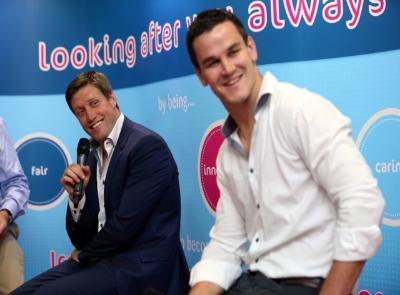 ‌‌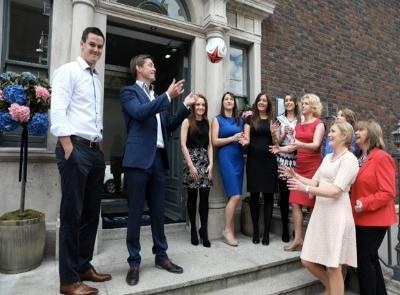 ‌
---
Health & Wellbeing Ambassador - Alan Quinlan
We are thrilled to announce that former Munster and Ireland rugby star Alan Quinlan has partnered with us as our Health & Wellbeing Ambassador. Alan will work on our Health@Work corporate programmes, speaking at a number of nationwide corporate events over the coming months.
Alan is pictured below with our Health@Work Manager, Liz O'Sullivan; Head of Sales, Ronan Whelan; Business Development Manager, Barry Hanrahan and Health@Work Team leader, Laura De Puis.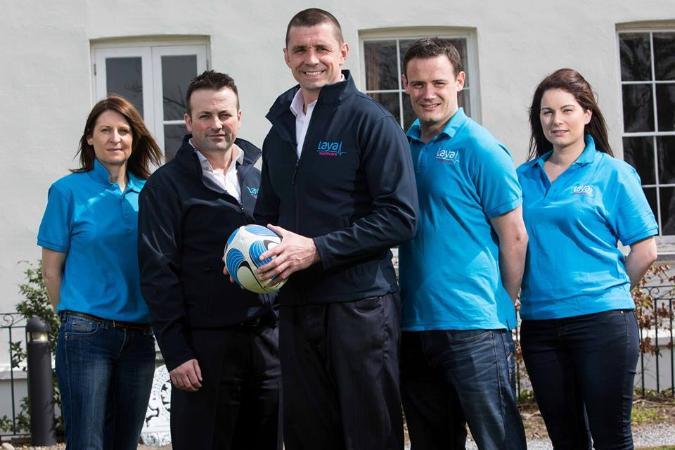 ‌
---
Investing in Future Healthcare Professionals,
Our partnership with the College of Medicine and Health at University College Cork
We are delighted to announce a founding corporate partnership with the College of Medicine and Health at University College Cork. This partnership highlights the importance of fostering collaborations between academia and industry in Ireland. Funding for this partnership will focus on delivering the mission of the College of Medicine and Health in research and innovation, resulting in better outcomes for patients. Through this partnership we are investing in the future of healthcare professionals, which is just another way of keeping our promise to the Irish public, of looking after you always.
Pictured below is our MD Donal Clancy with Professor John Higgins, Head of UCC, College of Medicine and Health. Also pictured is Theresa Power at Assert Centre, UCC.
‌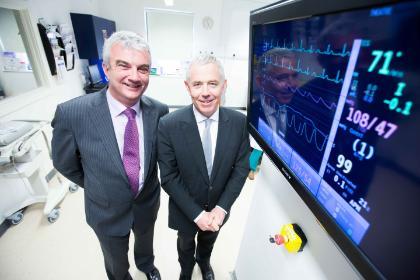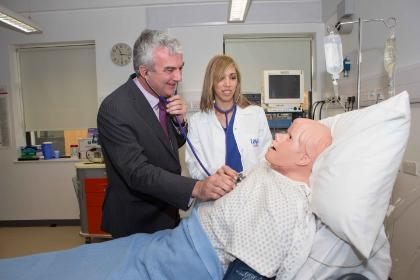 ---
Our Managing Director Dónal Clancy comments on the Irish Health Insurance Market
"We are very conscious of the impact the market is having on our members. Both our business and our members, continue to be under significant pressure primarily due to changes in Government policy and yet, the Government have failed to ensure that our main competitor abides by the same rules and solvency requirements as the rest of the market despite the threat of fines. These changes only exacerbate the cost spiral and, as a consequence, accelerate the dropout rate. A record number of people left the market last year and, most worryingly, the number of people under 30 with health insurance fell by 10%*. This means that cost increases, whether from the increased health levy or public beds charge, have to be passed on to members through their premiums. But this rising cost of premiums is only driving more people out of the market leaving the cost burden on those remaining who are generally older and sicker. This acceleration in the decline of consumers with private health insurance will create huge problems for the Government's proposed reform agenda, particularly the transition to universal health insurance, which is stated Government policy.
Despite our frustrations we will continue to participate in industry forums and meetings, presenting to Government, because the future of the Irish healthcare system must be built on an industry-led solution. We are committed to being a part of this important process."
*Source: HIA Report to the Minister of Health on an evaluation and analysis of returns for 1 July 2012 to 30 June 2013 including advice on risk equalisation credits
We have created an infographic below outlining the many factors outside of our control which are affecting the price of your private health insurance.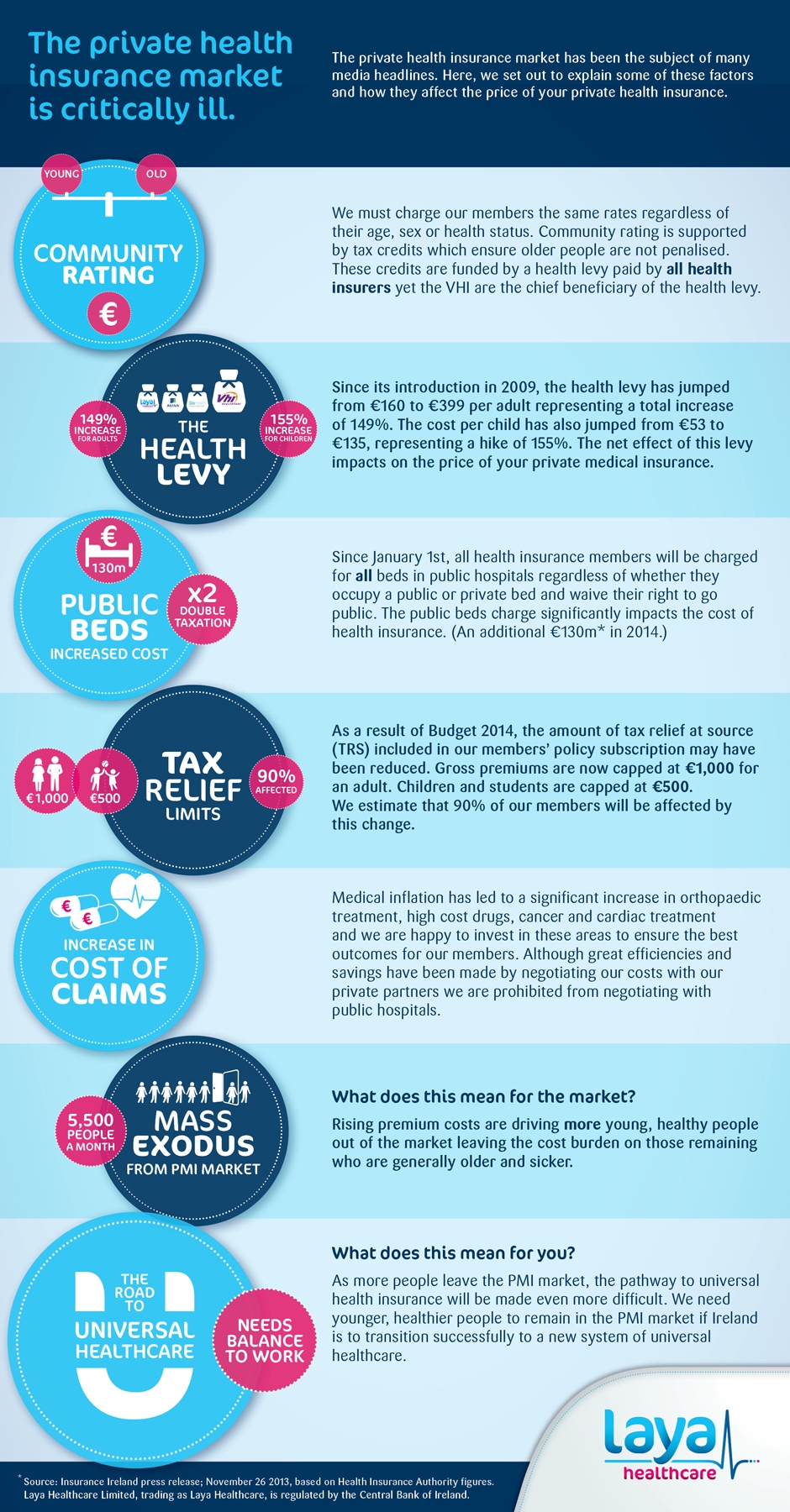 Click here‌ to view as a PDF
---
Laya Healthcare Pendulum Summit Highlights
For anyone that missed the Laya Healthcare Pendulum Summit, we have put together two highlights videos to help you get a sense of what it was all about. Be sure to check them out as it was a truly inspiring and enjoyable day which we were very proud to be a part of.
#layapendulum
---
Work-Life Balance
Did you know that six in ten people would like to spend more time with friends and family?
This is just one of the statistics we found in our recent Work-Life Balance research. In advance of the upcoming Laya Healthcare Pendulum Summit, we surveyed 1000 adults and found some really interesting results.
For a full list of these results, just click here.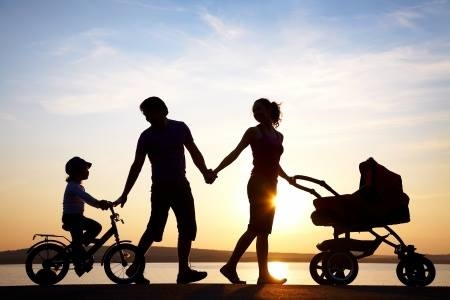 ---
Ground Control to Major Tom
Our Managing Director Dónal Clancy met Colonel Chris Hadfield, renowned Canadian astronaut and 'as Gaeilge' Tweeter; ahead of the inaugural Laya Healthcare Pendulum Summit.
Col Hadfield was on a flying visit to Ireland where he signed copies of his book – An Astronaut's Guide to Life on Earth: What Going to Space Taught Me About Ingenuity, Determination, and Being Prepared for Anything.
He also appeared on the Late Late Show where he regaled the audience with his version of David Bowie's "Space Oddity" which you can view here.
Col Chris Hadfield will deliver the keynote address at the first ever Laya Healthcare Pendulum Summit taking place at the Convention Centre, Dublin on 9th January 2014. This is the first international business and self-empowerment summit in Ireland and features an incredible line up of inspirational speakers for the daylong conference. For a full line up of speakers and all ticket information see www.layapendulum.com.
‌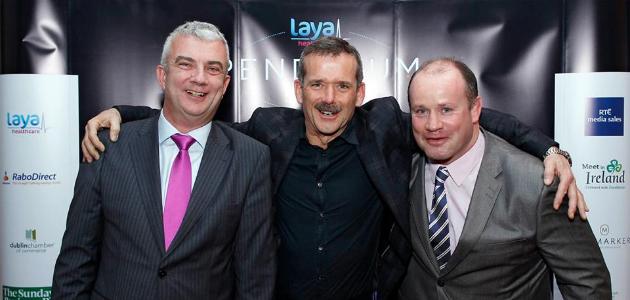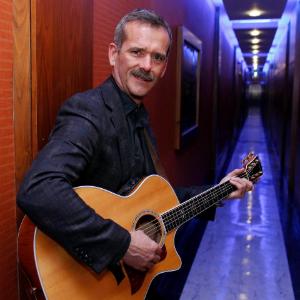 ---
The Laya Healthcare Pendulum Summit
Here at laya healthcare, we're delighted to sponsor the upcoming Laya Healthcare Pendulum Summit. This event was born on the premise that everyone, from the hard-nosed businessman to the aspiring academic strives for something more, something bigger and in essence tries to find those magic ingredients which will allow them to maximise their potential in all aspects of their life. The Laya Healthcare Pendulum summit will showcase a diverse range of international and 'home grown' speakers and guests who have reached the pinnacle of their industry. Canadian astronaut Chris Hadfield will be the key note speaker on the day.
The Laya Healthcare Pendulum Summit will take place at the Conference Centre, Dublin on the 9th of January 2014.
For more information go to http://pendulumsummit.com/.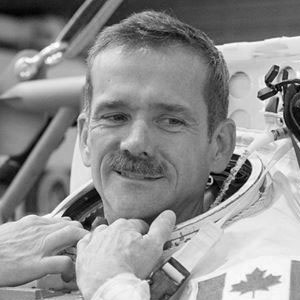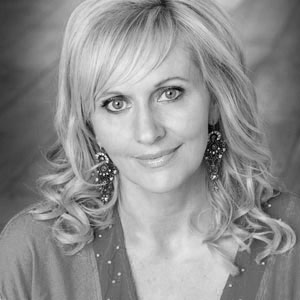 ‌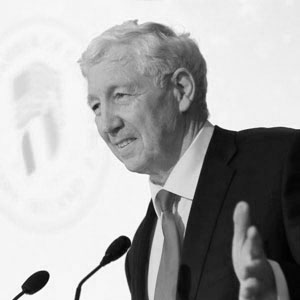 ---
it@cork - European Tech Cluster
The recent laya healthcare sponsored "Tech talk" focused on software with VMware's most influential leader in the European Cloud Community, Joe Baguley.
Speaking at the event Cian Kennedy, Laya Healthcare and Director of it@cork said "Joe Baguley's talk - "Software, software, everywhere, are you serious?"- was very well received by it@cork members at another sold-out it@cork Tech Tuesday. Joe gave an incredibly open and thought provoking account of the opportunities and challenges presented by the software-defined Data Centre. Joe provided great insights to where industry is moving. His talk was jam-packed with advice regarding IT-as-a-service, as well as also giving us some visibility into the future direction of VMware's platforms".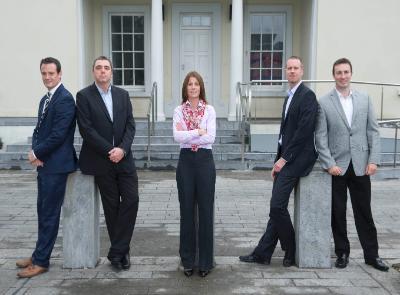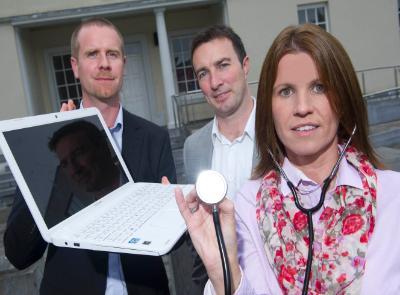 ---
The Hope Foundation Ladies Lunch
The Hope Foundation Ladies Lunch took place in Maryborough Hotel, Cork on Friday September 20th and we were delighted to be involved as sponsor for the third year in a row. The theme this year was 'Fashion with Passion for HOPE' and there sure was lots of style to be seen on the day. Brendan Courtney was among the judges to find the best dressed lady and gent.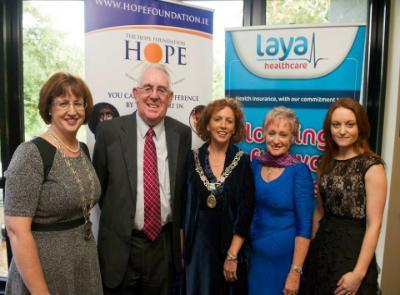 ‌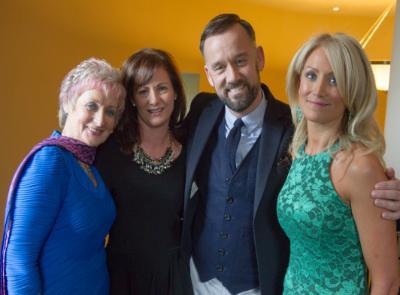 ‌
---
Cork Chamber Golf Classic 2013
The Cork Chamber Annual Golf Classic took place on Thursday September 5th in the picturesque surrounds of the Castlemartyr Golf Resort. The Golf Classic is one of Cork Chamber's most popular annual events and we were delighted to be involved in sponsoring this outing for another year.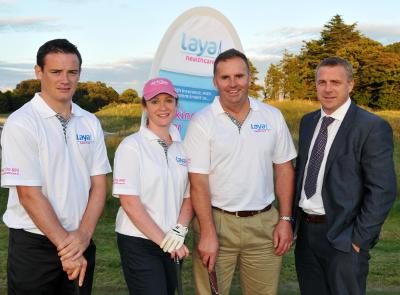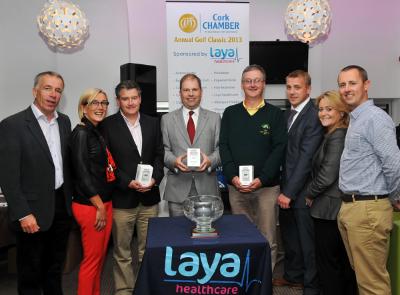 ‌
‌
---
Laya Healthcare Street Performance World Championship 2013
We've had a great couple of weekends enjoying the World's best street performers as part of the Laya Healthcare Street Performance World Championship. Almost 300,000 people turned out in both Dublin and Cork to enjoy this free fun-filled festival. Laya healthcare was delighted to sponsor this spectactular event for the second year in a row.
Following last year's "Where's wally" world record attempt, this year's record attempt saw the Minister of Silly Ideas, Ray D'Arcy being the subject of the most water balloons thrown at one person at one time. Check him out below!


‌
Ray Foley also joined in the fun to promote our cardiac screening competition - The Big Screen - with our "Foley the Goalie" game. Check out what he had to say about The Big Screen here.
For lots more fun pictures, check out our Facebook page. If you were there be sure to tag yourself!
---
Shine Ladies Lunch 2013
Maura Derrane was the special guest at this year's Shine Ladies Lunch which took place in the Clarion in Cork on the 8th of June. A great day was had by all over €11,000 being raised for the Shine Centre for Autism.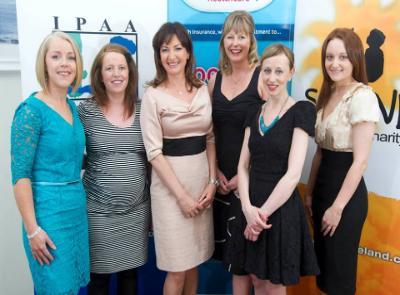 ‌‌‌
---
Launch of #layabigscreen to coincide with our First Birthday
To celebrate our first birthday we launched an initiative to give away €100,000 worth of free cardiac screening to thousands of members of sports and social clubs around Ireland this summer. The Big Screen is open to all types of sports organisations, no matter how big or small, or what level of skill or fitness is involved from rugby clubs, swimming groups, dance troops, hill walking societies, karate clubs, GAA clubs and more. To be in with a chance to win clubs should submit their nomination today on www.facebook.com/LayaHealthcare.
‌ ‌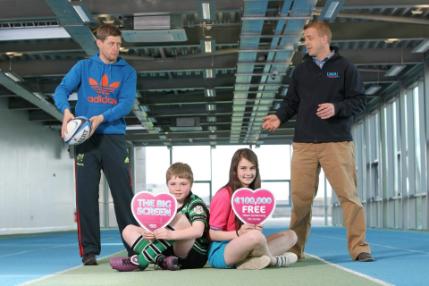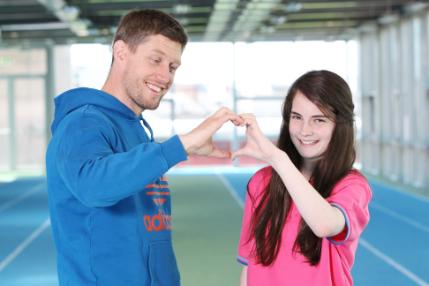 ---
Cheetah Run - Fota Wildlife Park
We are really looking forward to running on the wild side at this year's Cheetah Run in Fota Wildlife Park. Along with John Buckley Sports, we are delighted to co-sponsor this event which takes place on Thursday May 16th at 8pm.
The unique race gives people the rare chance to run past Cheetahs, European Bison, Penguins and Lemurs amongst other animals on the evening.
Former World Champion and Olympic Silver medallist Sonia O'Sullivan got a taste of the race recently when she ran 3 laps of the park with members of Eagle AC.
Please note, this event is now closed.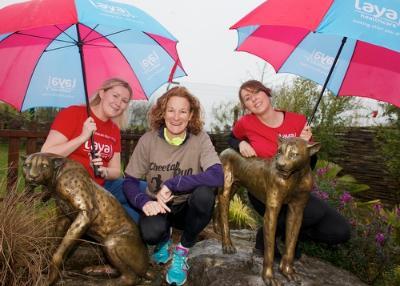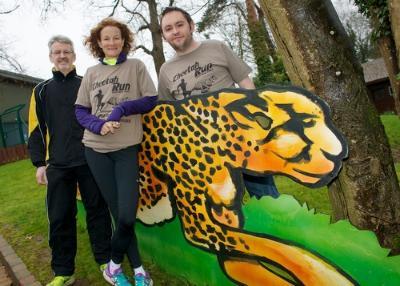 ---
Laya Healthcare Street Performance World Championship Launch
We are proud to sponsor this free, fun-filled family event again this year. With a focus on 'laughing out loud', we are extremely excited about the introduction of a dedicated 'laya healthcare lol arena,' which will be home to the Ministry of Silly Ideas.
As the saying goes, laughter is the best medicine and we're certain that the 2013 Laya Healthcare Street Performance World Championships will be full of smiles, giggles, hearty laughs and more! Click here for more information on this exciting event.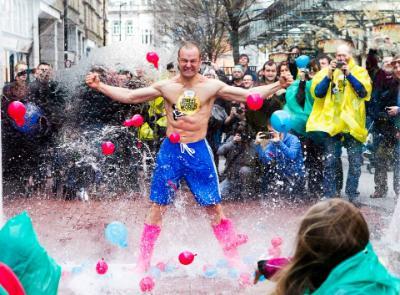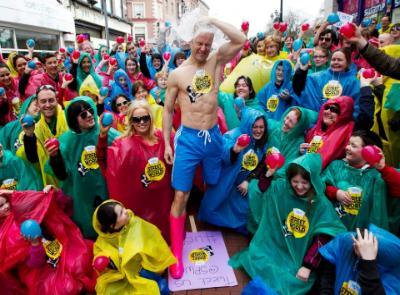 ---
National Healthcare Conference
Our sponsorship of the National Healthcare Conference gave us an opportunity to announce a novel fundraising campaign. To coincide with the launch of our Twitter account @layahealthcare we organised a hashtag campaign whereby for every mention of #layanhc we donated €1 to Daffodil Day. This resulted in an overall donation of €5000 for this great cause.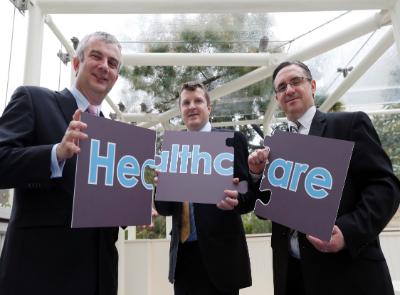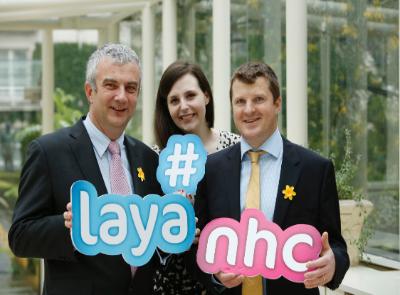 ---
The Munster Rugby U17 Blitz
We were delighted to be involved in the Munster Rugby U17 Blitz in aid of The Shine Centre for Autism. The blitz took place in the Presentation Brothers College Rugby Grounds, Wilton, Cork on Friday 15th of March 2013.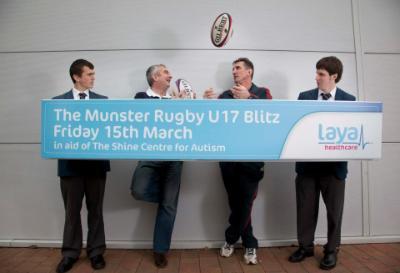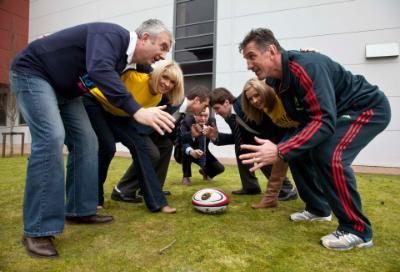 ‌
---
Shine Ladies Lunch
Laya healthcare sponsored the inaugural Shine Ladies Lunch held in Cork's Clarion hotel in June 2012.
Sinead Desmond from TV3 was the guest speaker at the event and a great day was had by all.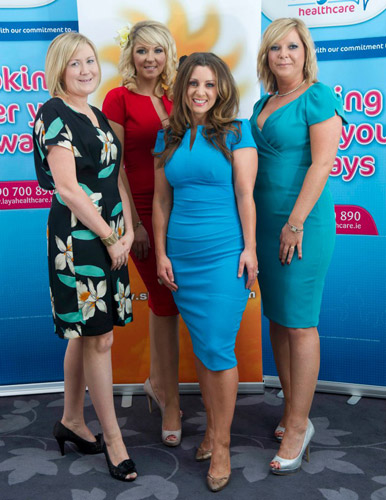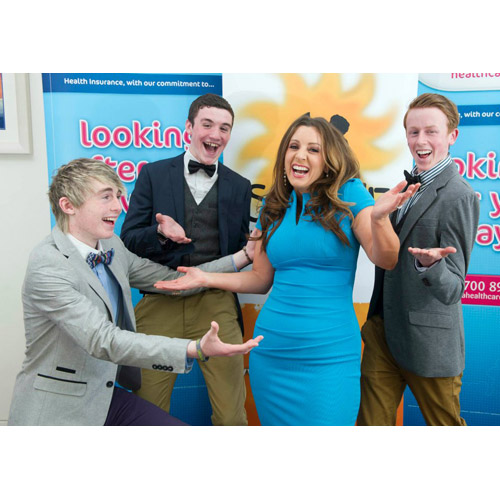 ---
Shine Centre for Autism
Smarter Senses Project for Autism
This groundbreaking project enables children with autism to reap the benefit of modern technology.
Many children with autism are visual learners and communicate through a Picture Exchange Communication System (PECS). iPads donated by the Laya Healthcare team give the children access to a range of pictures and symbols instantaneously, speeding up the process of communication and allowing more time for practical learning.
‌
Autism Jigsaw Conference
"Putting the pieces together" was the underlying theme of this two day conference which brought together in one venue all of the professionals, service providers and suppliers who support autism services in Ireland.
The Laya Healthcare sponsored event gave parents, families, carers and people with autism vital access to information, innovation, technology and equipment.
This year, the team was honoured for its "Outstanding Contribution" at Shine's annual Fundraising "Valentine's Ball".
---