Top 5 Health Screenings
A health screen in time saves lives
The saying 'an ounce of prevention is worth more than a pound of cure' can be rephrased as 'a health screen in time saves lives', advises Consultant Cardiologist Professor Carl Vaughan.
"A lot of people are driven by symptoms. They only think of going to the doctor when they have a problem. But people shouldn't be afraid of detecting something early because that's how you can treat it better. Having regular health screenings is like an investment in your future", Vaughan adds.
Early detection works
For nearly all types of cancer and heart disease – the biggest killers in Ireland – early detection and intervention can reduce the incidence and save lives.
Laya Healthcare's research shows that 1 in 2 people put off a health screening for three main reasons:
They are afraid of what will be found
The cost
They don't think they have access
Below are the top 5 quick health checks – most of which can be done at home or at the GP surgery – that could save your life. As well as these there are specific screenings for cancer and heart disease that you should get at different ages and life stages e.g. mammogram, colonoscopy, prostate check and these are listed below in our guide to the top health screenings by age.
Remember that you are the expert in your own body and if you feel that something isn't right then its best to trust your gut and get it checked out.
Health Screening Virtual Event & Expert Q&A
Newstalk's Clare McKenna joined Professor Carl Vaughan, Consultant Cardiologist and Lead Cardiologist at Advanced Medical Services to chat about what health checks are important throughout different life stages.
"In my mind, I was way too young for that to happen"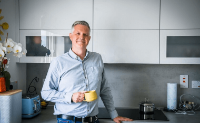 A routine 15 minute HeartBeat cardiac screening revealed a life threatening heart condition for Damian, a laya healthcare member. Now fully recovered, Damian tells us his story.