Events
Let's Talk Mental Health
While mental health in Ireland has been gaining increasing focus over the past number of years, many companies are still underequipped when identifying and tackling mental health issues. In recent research, we found that the majority of Irish people think the conversation around mental health needs to change in Ireland, with 75% feeling that a stigma still exists around those suffering from anxiety. This unique event facilitates dialogue with senior HR professionals as they identify the supports and structures needed to improve their organisation's Mental Health strategy. The event includes a combination of presentations and panel discussions, along with interactive Q&A sessions and an opportunity to meet and chat with service providers.
The National Diversity and Inclusion Conference 2019
We're proud to be Founding Partners of the DCU Centre of Excellence for Diversity and Inclusion. Established in June 2018, the mission of the Centre is to help organisations build cultures of inclusion by providing access to the very latest developments in academic research, insights and tools on diversity and inclusion. The Centre provides expert research, consultancy, advice and support on key topics related to diversity and inclusion in the workplace. It takes a long-term view on diversity and inclusion trends, informed by engagement with industry stakeholders and partners, while facilitating improved knowledge management and communication of intelligence on diversity and inclusion core issues, policy and practice, from an Irish context.
The 4th of September 2019 saw thought leaders in the space of Diversity and Inclusion come together in DCU to discuss leading through adversity and inclusive leadership. The National Diversity and Inclusion Conference 2019, led by MC Donna Deberry, had an incredible atmosphere, which was generated by the passionate engagement of both speakers and attendees. Head of Wellness Sinead Proos led a panel session on managing mental wellbeing in the workplace, including a panel discussion with Dr Sarah O'Neill and Dr Evelyn Gordon.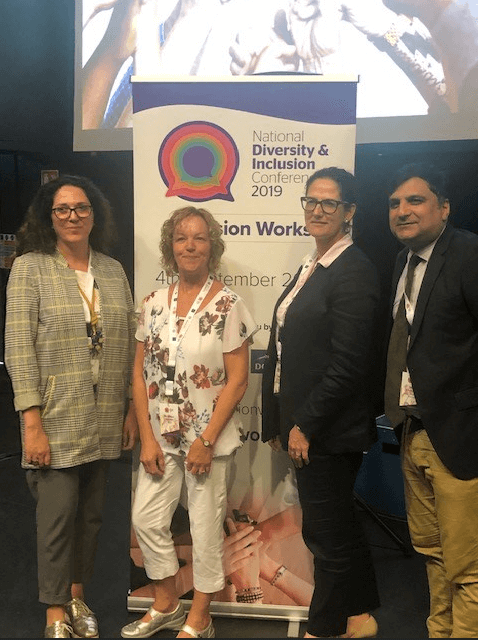 The Cheetah Run
The Cheetah Run is a 5k with a difference, for runners of all ages and levels. Fota Wildlife Park play host to this each year and, as a runner, you experience a different type of run through the beautifiul grounds of the wildlife park. Participants from laya healthcare this year raced after a 6 week period of training with the internal Couch to 5k programme so there was a great sense of team work and achievement for all involved.