Awards
Diversity & Inclusion
Best Workplaces for Women
The Best Workplaces for Women process is a programme which aims to recognise top organisations which, as well as providing a great work environment for everyone in general, are strategically focused on creating positive and supportive workplaces for women.
This award takes the global standard Best Workplaces methodology as its basis, and recognises organisations that go above and beyond to ensure that the women in their workforce are treated fairly when it comes to pay, recognition, training and promotion opportunities; where they can take the time off they need to attend to childcare or other family commitments; and where they are encouraged, empowered, and supported to do their best work. Laya healthcare is delighted to have received this recognition for the last three years in a row.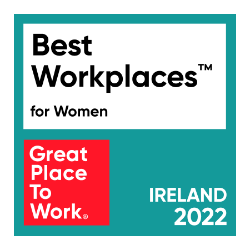 Investors in Diversity - Gold
Investors in Diversity Ireland (IiD) is Ireland's first all encompassing Equality, Diversity and Inclusion mark.
The Irish Centre for Diversity, supported by Ibec and the DCU Centre of Excellence for Diversity and Inclusion, introduced the first all encompassing Diversity and Inclusion mark for Irish businesses.
Laya healthcare is one of only three organisations in Ireland to be accredited with Investors In Diversity Gold. With a team of 590, laya healthcare has demonstrated that we have leaders that support the D&I agenda in practical ways, including providing the appropriate resources and leading by example. We have also shown that team members feel they are treated fairly, with respect and are valued for their differences.

Want to Know More?
At laya healthcare we strive to ensure our team are empowered to bring their full authentic selves to work every day.
You can find out more in our Diversity & Inclusion policy.
Team Member Testimonial
"As a parent, the flexibility on offer at laya healthcare gives me incredible freedom to juggle the demands of work and home life. Whether it's availing of flexi time to pick the kids up from school or take them to appointments, or taking parental leave when I need it, there's great understanding at management level that to fulfil our potential and get the job done, there needs to be harmony between our work and personal lives and accommodations are made to support the team as much as possible".

- Aideen