Private Morning Session - Let's Talk Mental Health 2021
Wednesday 20th October 2021 | 9.30am to 12.30pm
You're invited to the private morning session of this year's Let's Talk Mental Health in the Workplace virtual event.
Our theme this year is Putting Empathy and Inclusion at the Heart of the Workplace, and this private morning session promises to include inspiring national and international experts, who will discuss diversity, gender, hormonal health and more in the context of a healthy and inclusive workplace.
If you would like to attend as our exclusive guest, please follow the button to book your place. Please note this invite is non-transferable.
Featured speakers
Jess Philips
Shadow Minister for Domestic Abuse and Safeguarding
Jess Phillips, MP Shadow Minister for Domestic Violence and Safeguarding discusses the role employers can play in the fight against domestic abuse.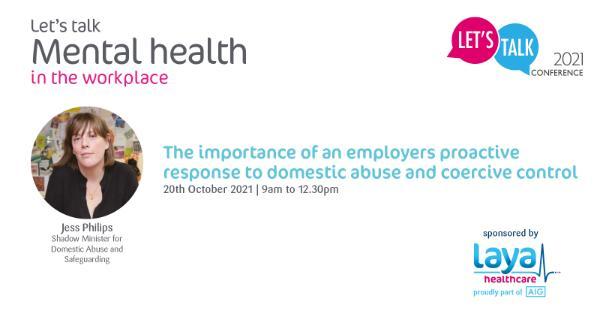 Loretta Dignam
CEO, The Menopause Hub
Loreta Dignam, CEO & Founder of the Menopause Hub in conversation with Tracy Murphy, Senior Director Pringles Europe at Kellogg about the need for openness within organisations towards hormonal health and the impact of the menopause on women in the workplace.