€105,321 - The cost of raising a child from cradle to college
New research published today by laya life reveals that the average cost of raising a child until their 21st birthday in Ireland can be as much as €105,321, with the majority of parents (77%) admitting they put too much pressure on themselves to give their kids everything.
The research breaks out the significant costs parents incur over the first 21 years of their child's life; from the everyday cost of food and clothing, to the higher costs of childcare and education. Irish households are spending an average of €11,033.64 every year on their children.
The cost of childcare is the biggest outlay for parents each year at €4,049.42*, representing a major slice [7%] of the annual household income**. This is closely followed by the cost of university and third level college fees each year (€4,056.24), and other education-related costs including school books, uniforms and extra-curriculum classes which amount to €1,707.12 a year. The majority of parents say they are just about keeping their heads above water, with almost 6 out of 10 (57%) admitting they are currently not able to put any money aside for savings.
Cutting back on living expenses
Despite the high costs of raising kids through to college years, less than a third (31%) of parents have estimated the future costs of supporting their kids until they are old enough to support themselves, with slightly less (29%) putting a savings plan in place to cover the future costs of raising them. Worryingly, only two-fifths (42%) of Irish parents do not have life insurance in place to protect their family should the worst happen.
Almost half (45%) of parents admit they have cancelled insurances in an attempt to cut back on costs, with one in four (28%) cancelling their pension for the same reason. Most worryingly, almost one in two (48%) Irish parents have put off saving for their retirement to help support their kids financially.
Age of independence
The average age from which Irish parents expect their children to fully support themselves is 24 years. However, Irish parents are most likely to want to help their children when it comes to buying their first home with almost two-fifths (38%) saying they'd like to put money towards their child's first home and a third (33%) planning to help them financially when they get married. Meanwhile, one in three parents (30%) hopes to be in a position to give their kids a financial dig-out when they decide to have a family of their own.
Well-known economists Joseph Durkan and Moore McDowell - who collaborated in the laya life research - say the findings throw up an interesting contradiction in respect of the generous, well-meaning intentions of parents and their current ability to save:
"It's crystal clear from the research that Irish parents want to provide financial stability for their children, but they are still suffering from the effects of the recent economic downturn - 'The Great Recession'. It's the worst recession the world has experienced since the Great Depression of the 1930s, and the worst in Ireland since the 1950s. Many parents today have raised their children in exceptionally difficult financial circumstances and it's clear from the research that savings and important financial protection such as life insurance have been put on the long finger or forgotten altogether as parents fight to survive financially.
"However, if they want to secure the future against 'shocks' such as the consequence of a premature death of a parent, they must have a savings strategy. Pension planning for retirement is an obvious example, but there are many other plans that parents should consider. Insurance in various forms is central to such a savings strategy and what's worrying about this research is that it appears that half of parents aren't saving anything, and a huge majority - 64% - have cut back essential financial protection such as life insurance and pensions. This needs to be reversed as the economy recovers", Durkan and McDowell warned.
Talking about death is taboo
Death and dying remain taboo with a quarter (25%) of mums and dads admitting they aren't comfortable talking about their death with their spouse and family, and less than a third (29%) of Irish parents having considered their own funeral arrangements.
Widow urges other parents to talk about the future cost of raising kids
Widow and mum of three, Aiveen Casey, has backed the laya life research and urged other parents to have an honest - albeit uncomfortable - discussion about the future and how they would manage financially should the worst happen. Aiveen's husband, Dominic, passed away unexpectedly in 2010 after a routine medical procedure. He had been diagnosed with leukemia in May 2010, and died just 10 weeks later. He was 46 years old.
Aiveen says, "Dealing with grief is a horrendous process and unfortunately there's no blueprint; nobody can prepare you for such a soul-destroying situation. As a family we tried to look after each other, and get through it together. But you soon come to the realisation that life has to go on - the bills keep coming in and the cost of running a home doesn't stop."
When Aiveen and Dominic had their family, Dominic felt very strongly about taking out life insurance to ensure the family could survive if either he or Aiveen were to die.
"Dominic always wanted to ensure that if anything happened to him we'd be looked after. It meant that when he died, I was able to keep life as normal as possible for our kids, who were then aged 5, 14 and 18 years. While our mortgage repayments were settled after Dominic died, it was the other general day-to-day costs such as the cost of school books, uniforms, running a car, insurance costs, utilities and the many other hidden costs that really added-up. I was lucky that I didn't have childcare costs but as a childcare professional, I know that in some cases these costs can be similar to paying off a mortgage. Dominic and I often talked about the future and how we'd protect the kids should anything happen, I'm so glad that we did. It made a very difficult time a little more bearable," Aiveen said.
To find out how you can protect your family with a lump sum of up to €200,000 from as little as €10.10 a month visit layalife.ie
Other survey highlights: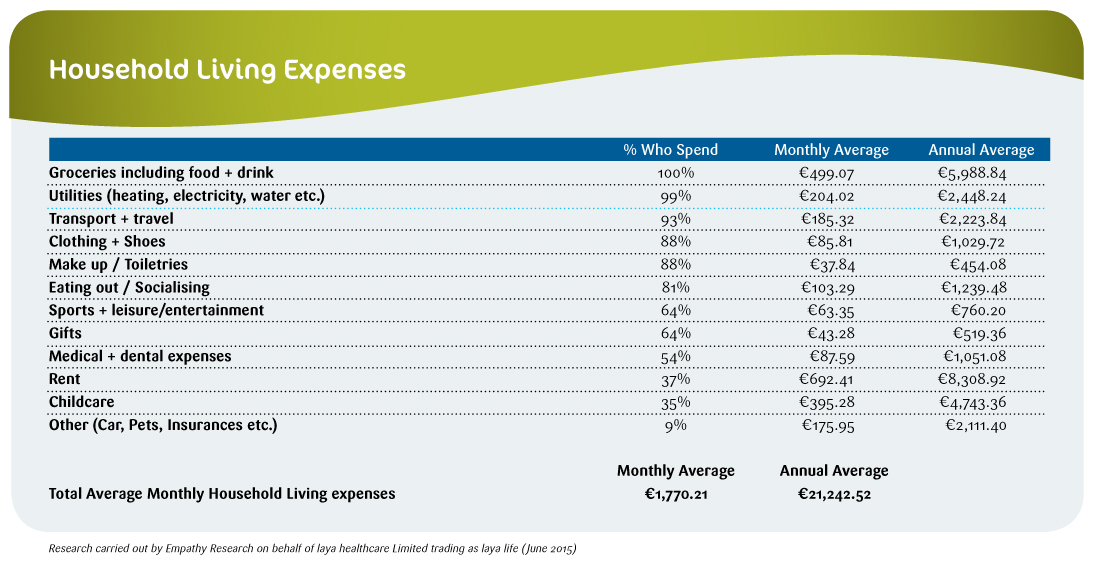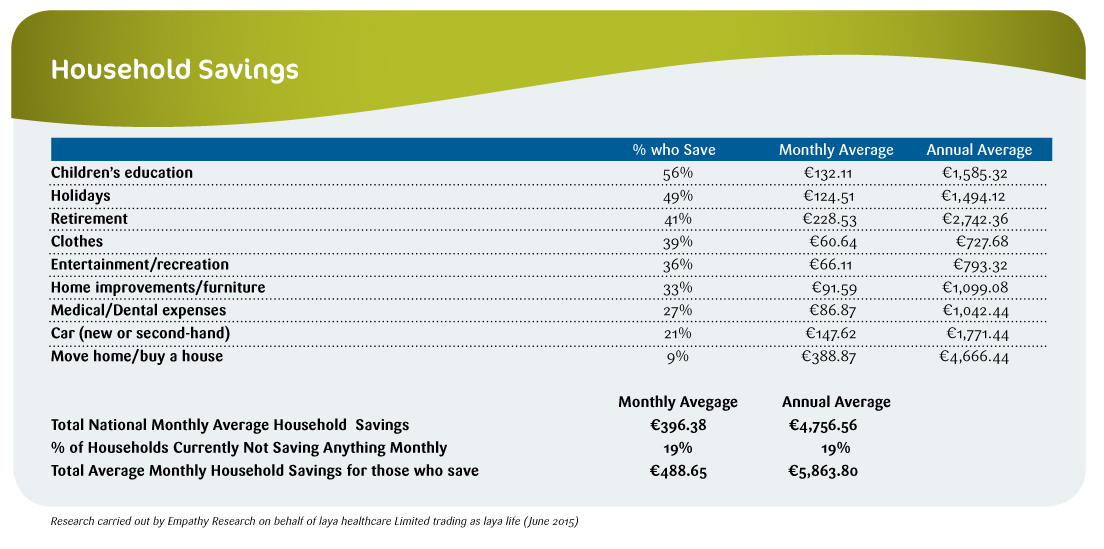 *Research carried out by Empathy Research among 1,000 parents, 1-10th June 2015
Notes:
Research Methodology
Empathy research carried out an online survey to establish the expenditure per household of Irish parents. The research was conducted among 1,000 parents of children aged 0-21 years of age across Ireland between 1st - 10th June 2015.
*Average figure based on average number of children per household 2.2
** Of the 1,000 parents surveyed, the mid-point average annual household income was €56,672.77
Aiveen Casey has received a payment for her contribution to this press release.
About Joe Durkan and Moore McDowell – Economists - Directors of economics consultancy ECU Ltd
Joe has worked as a research professor at the ESRI, and held a lectureship at UCD. He also worked for a number of years in the financial sector in Dublin. In 2014 Joe lectured in Beijing for UCD.
Moore McDowell was also an economics lecturer in UCD, and was a member of UCD's Governing Authority. He has held visiting posts at universities in California and Delaware in the U.S. He was for many years an economics correspondent for Independent Newspapers. Both Joe and Moore have been contributors on radio and TV on economics in Ireland and elsewhere.