When we think of cancer, we often think of it as a big disease on which we can have little impact. But that is not the case. If you have read any of my previous blogs, such as #MySmallChange, then you'll know I am passionate about letting people know that we actually do have the power to lower our risk of getting different types of cancers.
This year for World Cancer Day, which takes place on Sunday, 4th February, the HSE and Healthy Ireland are focusing on obesity, physical activity and their link to cancer. This is a drum I have been beating for a while and I'll tell you why.
In Ireland, it is estimated that approximately 800 new cases of cancer and 300 deaths from cancer each year are due to obesity. However, approximately 30-40% of cancers could be prevented through lifestyle changes. For example, if I exercise for two hours every week (I do try!) it reduces my risk of breast cancer by 5%[1] . For bowel cancer there is an average risk reduction of 20%[2] [3] with high versus low levels of exercise. These statistics show that the brisk and energetic 30 minute walk we take each day can make a big difference to our likelihood of developing a number of cancers.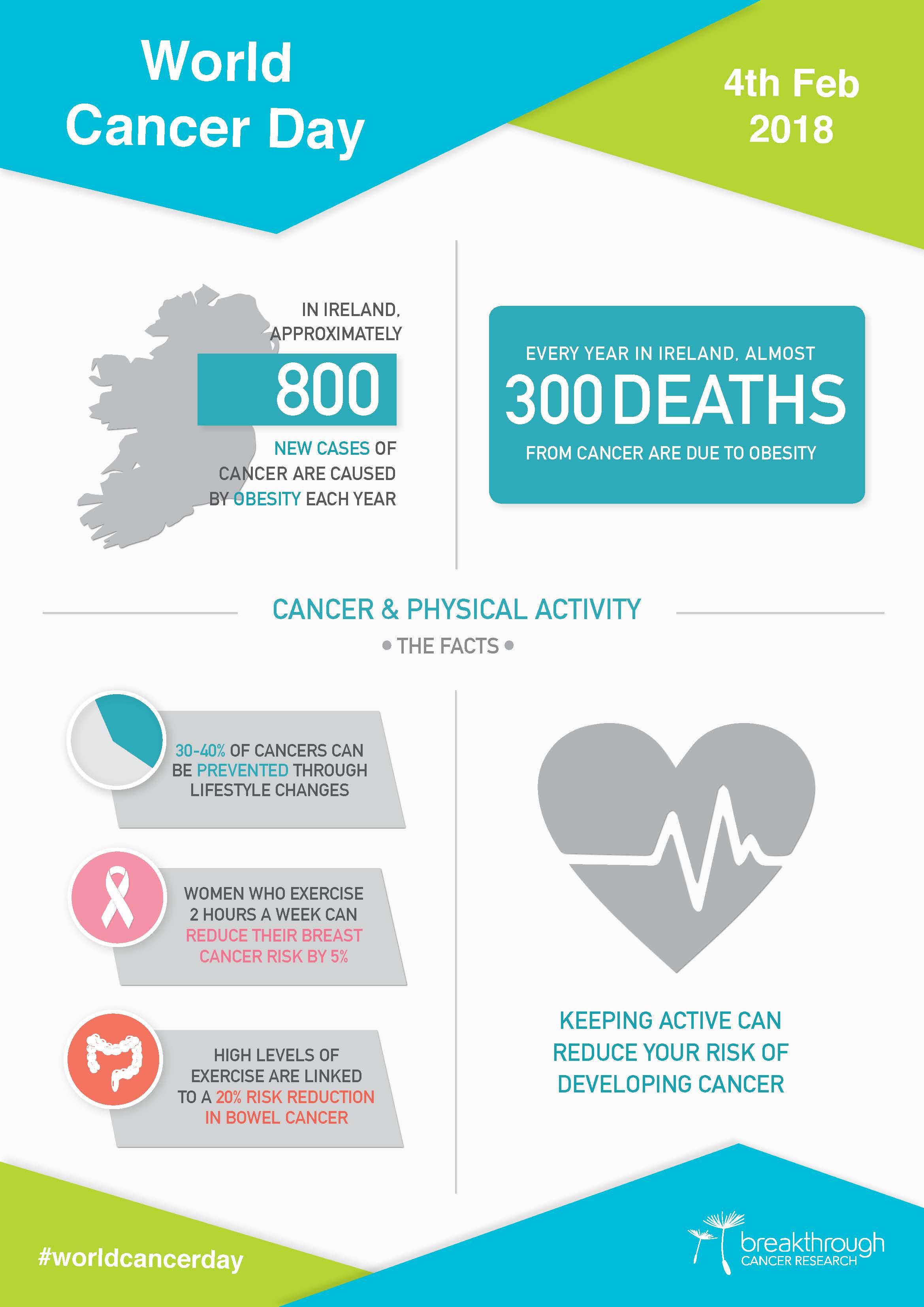 At this stage, we all know that by stopping smoking we lower our risk. What many of us don't know is that by getting more active and losing excess body weight we are also lowering our chances of developing cancer too. The International Agency for Research on Cancer (IARC) reports being overweight to be linked to over 11 different types of cancer including oesophagus, stomach, pancreas, gallbladder, liver, colorectal, postmenopausal breast, ovary, endometrium, prostate, kidney. [4]
This has now become the second biggest preventable cause of cancer. And as we know, prevention is always better than cure!
But how is it linked? Any excess body weight increases inflammation throughout our body and alters levels of insulin, sex hormones, and growth hormones, all of which may trigger cells to grow rapidly increasing our cancer risk [5]. And what is also now emerging, is that where we carry our weight may also be important. People who are apple shaped (with their fat mainly around their waist) seem to be at greater risk than people who are pear shaped (with most of their fat stored around their hips and thighs). One of the reasons I am delighted to have a pear shape!
So this World Cancer Day why not get out there, boost your physical exercise and lower your cancer risk. Healthy Ireland, the National Cancer Control Programme are encouraging everyone to spread the message, "Bring a friend" and get active on World Cancer Day. I know I'll be heading out there!
If you want to read more about the science behind this, go to https://www.breakthroughcancerresearch.ie/cancer-info/
To help you get active why not arrange your personal Healthcoach consultation this week?
Sources
Wu Y, Zhang D, Kang S. Physical activity and risk of breast cancer: a meta-analysis of prospective studies. Breast Cancer Research and Treatment 2013; 137(3):869-882.
World Cancer Research Fund (2017) Diet, nutrition, physical activity and colorectal cancer
[Schmid D, Behrens G, Keimling M, et al. A systematic review and meta-analysis of physical activity and endometrial cancer risk. European Journal of Epidemiology 2015; 30(5):397-412.
Calle EE, Kaaks R. (2004) Overweight, obesity and cancer: epidemiological evidence and proposed mechanisms. Nat Rev Cancer;4:579-591
Renehan AG, Zwahlen M, Egger M. (2015) "Adiposity and cancer risk: new mechanistic insights from epidemiology" Nat Rev Cancer 15:484-498