Many understand Laya Healthcare's City Spectacular to be a place of surreal and outstanding performances from world renowned professional entertainers. We have hosted performances from across the globe who have flipped, fired, tossed and thrown themselves before your eyes and into your hearts with unforgettable stunts and tricks. This year was no different, but we did have some extra tricks up our sleeves to add to the dedicated ethos of family wellbeing and happiness. As title sponsor, Laya Healthcare remains the driving force behind the focus on children's health and wellbeing at this year's event and we are delighted that they have announced a three year partnership with us.
Some of the performers from this year's event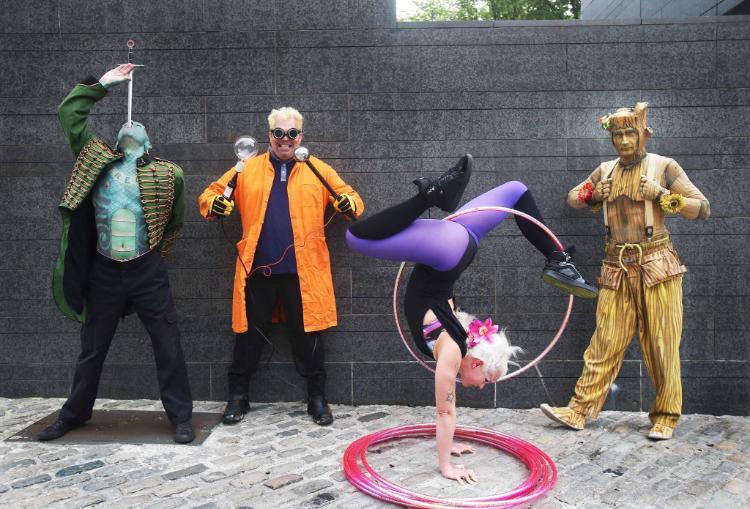 Last year Laya Healthcare's City Spectacular celebrated its 10th year as one of Ireland's largest free family festivals. After such an amazing 10 years there was no way starting off the next 10 was going to be any different. Dublin and Cork have been overrun with festival goers every summer for years now as we inject family entertainment, energy and activity into Merrion Square and Fitzgerald's park and over the past year, Laya Healthcare has given us the life we need to do this.
Whether you wanted to meet Bruce Springsteen's favourite contortionist Alakazam, get creative with the kids through art and writing workshops, or you just wanted to kick back and relax with some of the best street food Dublin has to offer, Laya Healthcare's City Spectacular did all of this!
The entertainment was unparalleled, featuring Titan the Robot, an android with quite the sense of humour who's amazing with kids of all ages and our national treasure, Bosco the puppet.
Watch a video of Titan, one of our top performers from the recent summer festival.
Each year there are special areas for everyone to get a dose of creativity with arts and crafts workshops, or have a boogie and a bop at dance and fitness classes. Laya Healthcare's Greatest Place on Earth featured two tents packed to the brim with fun and activities. With WiFi hotspots, a giant robot, Bosco, arts and crafts with Artzone it proved an exciting place to hang out. On top of that our onsite Nurse provided a free blood pressure check. For little kids, and not so little kids, the Super Troopers tent had happy yoga, kid's aerobic and dance classes (Dad dancing classes not provided!) so there was plenty to keep visitors healthy, happy and having plenty of fun! Oh and if that wasn't enough, the ESB Spark Your Imagination area was a bounty for the brain! This is where Doktor Kaboom caused a riot with his wacky and wonderful science shows, Imaginosity got the cogs turning with their fun and games, and the kids put pen to paper with Fighting Words creative writing workshops.
Every bit of this festival has been created with family wellbeing and happiness in mind. Whether it's through art and learning, experiencing new tastes or laughing until your sides hurt. Whatever kind of day you're looking for we can guarantee it will be full of life and energy while making great memories with friends and family. If you missed it this year then keep an eye out for its jubilant return in July to Dublin's Merrion Square and to Cork's Fitzgerald Park. More info here