Have you ever watched our TV ads and wondered what they represent? They are the culmination of a new strategy for laya healthcare to reposition us as a company and to mark our 20th year in business as Ireland's second largest health insurer.
Our vision for the campaign was simple; we wanted to empower people to look after their health and wellbeing so that they can be at their very best, always.
New TV campaign
Take a listen to our Radio campaign here
We unveiled a major new brand repositioning campaign called "It's good to live" working for the first time with TBWA/Dublin who helped us to bring this vision to life. The campaign is our biggest in five years and we wanted to evolve the brand to win hearts and minds as a real health partner, not just a health insurer. The multi-platform campaign focused on building a more emotional connection with our members, showing why it's so good to live for the moment, embrace life, its freedoms and all the imperfections that come with it. For years, we occupied a comfortable space like other insurers, where we communicated how we would look after people when they were sick, about 3% of their lives. While of course we will continue to do this, the reality is that people are well 97% of the time, and they need our help and encouragement to empower them to look after their health and wellbeing.
Now, we want to move the conversation with our members 'from fear to freedom', from the fear of something going wrong to the freedom of living life to its fullest. Laya healthcare will give practical support and tools to support our members to live healthier, better lives. We want our members to experience what it feels like to be alive, and to embrace the fun and playful side of life. We'd like people to reappraise laya healthcare and look on us as more than just an insurer, but as a partner for health and wellbeing. We're so proud of this new campaign and are excited about this major new brand journey we're about to take that will open up new conversations and experiences with our 580,000 members.
Example of our outdoor campaign: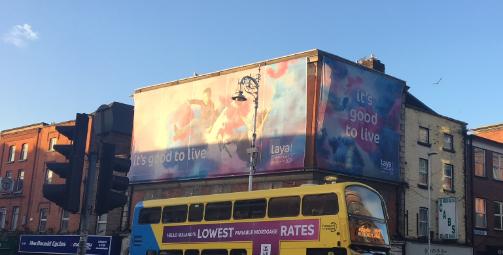 We worked closely with John Kilkenny, Creative Director at TBWA\Dublin who said "From the get-go, the team at laya healthcare embraced the life-affirming and playful direction we wanted to take them. They can see how the dynamics of Ireland's health insurance market are changing; those with health insurance now want their insurer to do more than just take the risk, they want an insurer to bring value to their health and be more of a health partner– in the good times, and the bad. Laya healthcare's new campaign will surprise and delight the audience and win over a new generation who want to break free of the tired health insurance clichés and be empowered to live and feel better, always."
I'd like to thank everyone in our Marketing team here at laya healthcare who all played a large role in getting this campaign live, but in particular our Marketing Manager, Alan Morris who led this campaign. I'd also like to thank Carat Ireland (who planned the heavyweight new campaign across TV, radio, digital, outdoor advertising, video-led social media, display and PR). Thanks to our TV production company Pull the Trigger, and to Dyjaho for collaborating on our social media.
Most especially, thanks to the wonderful team at TBWA/Dublin for encouraging us to take a leap from the conventional insurance market and strive to become a true health insurance partner for our members. They were an absolute pleasure to work with.
We really hope you like this, the launch of our new campaign which is only the beginning of our new journey, to empower people to look after their health and wellbeing so that they can be at their very best, always. It's Good to Live!