With everything going on at the moment, we're looking at different ways to host a party with your family or those you live with. Carla Bredin shows us how to create a healthy "stay at home" party. Until the end of August 2020, laya healthcare members can book sessions with a nutritionist at no additional cost. Book your nutritionist session here.
In this video I show you how to make a homemade Dark and Stormy Mocktail (without alcohol). The ingredients and directions are listed below. I've also added a couple of additional recipes for snack ideas that are great for laying out on the coffee table.
The nutrient profile of these recipes is much better than their store-bought equivalents. The calorie profile, however, is similar. Therefore, be advised that these recipes are still indulgent and are meant to be enjoyed on special occasions. They do not contain synthetic fats or artificial sweeteners, and have moderate to low amounts of sodium, refined sugars, and alcohol. They also contain lots of fibre, vitamins, minerals, and anti-oxidants, so although they require a little bit of extra prep, it's definitely worth the effort.
Iced Mint and Ginger Tea
As a base for the Mocktail recipe in the video, I brew a batch of homemade mint and ginger tea. This is delicious in its own right, cooled and sipped as an Iced Tea, and you can infuse your ice cube tray to match it.
Ingredients:
500ml boiled water
3-4 full springs of fresh mint, rinsed
3-4 large slices of fresh ginger
Add mint and ginger into your teapot and fill with boiled water. Brew for a couple of hours, until pot has gradually cooled. Can be transferred to a jug and chilled overnight, or pour directly into a glass with lots of ice cubes to reach chilled temperature for serving. A long sprig of mint in the glass to serve looks just as impressive as the infused ice cubes, so choose which way you want to serve.
Serves 4-6 glasses with ice.
Ginger ice cubes:
Slice some fresh ginger and pop into every other compartment of the ice cube tray. Tear a small mint leaf off the stem, and do the same. Add water, place in the freezer for 4-5 hours until frozen through. The mint and ginger will be suspended in the cubes.
Dark and Stormy Punch/Mocktail
This punch or mocktail only has four ingredients; ginger beer, mint tea, ginger, and lime. The fresh ginger and the ginger beer give it spiciness, the mint a cooling effect, while the bubbles and sugar from the ginger beer give it a real kick. Lots of things going on, and that's what makes it such a treat. It's delicious served at family barbecues.
Ingredients:
1 Cup (250ml) brewed and cooled mint and ginger tea (as above)
2 cups (500ml) Non Alcoholic Ginger Beer (I used Fentimans)
1 lime, sliced or wedged
Assemble all ingredients together in a jug and serve in a short glass over ice and ginger slices. Alternatively, arrange in a bowl with a soup ladle for that 'punch' effect. To make the alcoholic version of this cocktail you can either add 80-100ml of dark spiced rum, or just swap the non-alcoholic ginger beer for alcoholic ginger beer (Hollows and Fentimans 4%).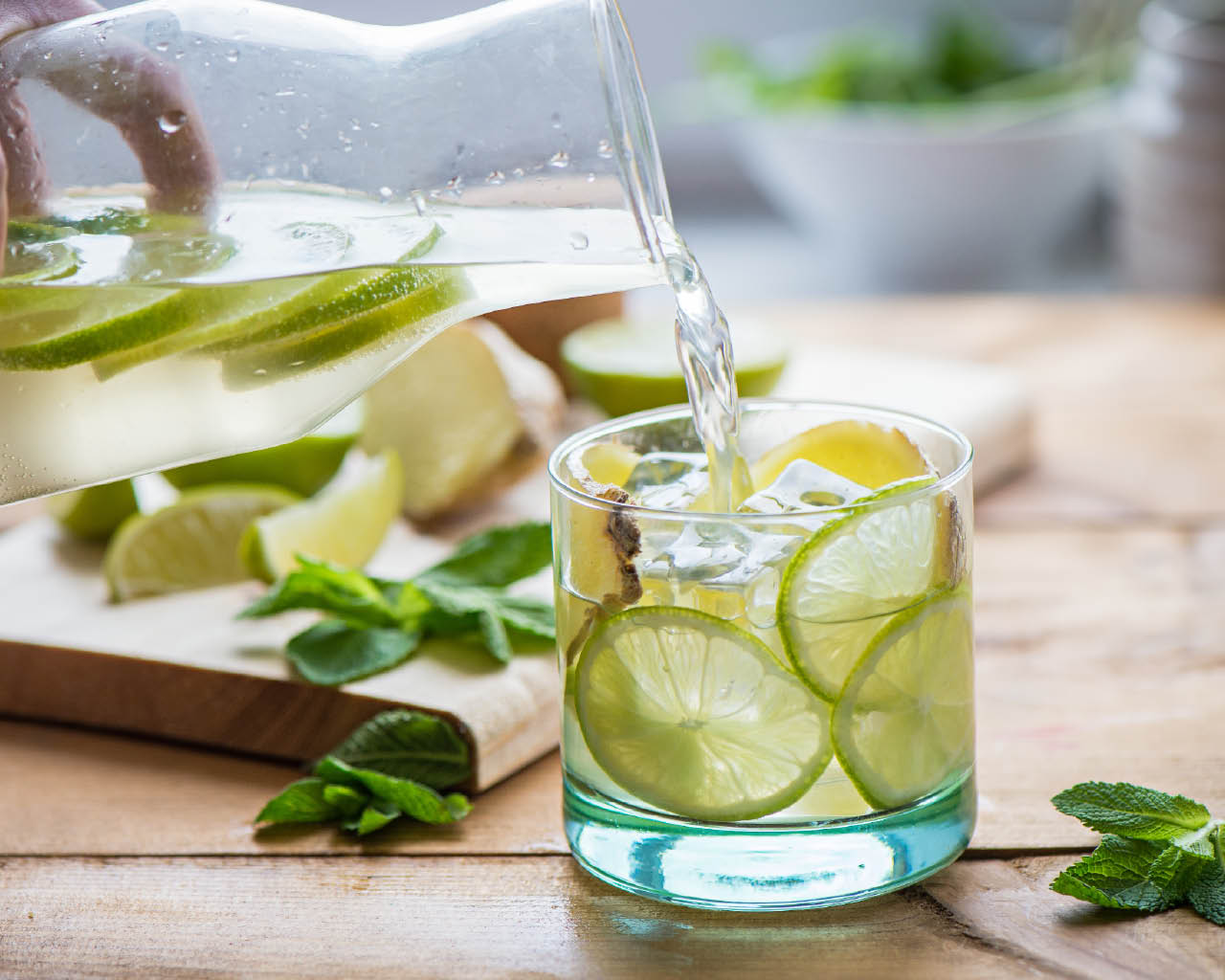 Snack Recipes
Sweet and Salty Popcorn
I bought an airpopper (€20), and I rave about it to anyone that will listen to me, it allows me to indulge in savoury snacks while moderating my salt and refined fat intakes. It's on full speed most weekends! It works by heating the corn kernels using air, and they pop into your bowl. Then you can season them to your preferred taste. This recipe uses dates, tahini, and sea salt, so they're sweet, with a bit of fat and salt to really satisfy the palate.
Ingredients:
100g Corn Kernels
6 Dates, soaked for 2-3 hours
1 tbsp tahini
Sea salt
Serves 3-4
Air-pop your corn kernels into a mixing bowl or a large casserole dish. Otherwise, use the hob and a little bit of coconut oil and leave out the tahini. While those are popping, add dates and tahini to the blender, and blend into a paste. Pour this paste on top of the popped corn and mix thoroughly, coating most of the popcorn, but don't worry if you miss a bunch of pieces. If you used the casserole dish to do all of the above steps, place directly into a preheated oven at 180 for 15 minutes. Otherwise, transfer coated popcorn onto a grease-proof lined baking tray, and bake at 180 for 15 minutes. Remove and allow to cool for half an hour. Sprinkle with a touch of sea salt. Place in little bowls and serve. Double or triple the batch as needed.
Beet Pate with Crudité
This recipe has been featured here and is a delicious, nutritious, variation on a classic hummus that is really eye-catching due to its intense pinkish/purplish colour from the beetroot. Serve with a platter of carrots stick, cucumber sticks, red, yellow, and orange pepper slices, mange touts, or little bread sticks or corn cakes.
Ingredients:
200g beets, 3 cloves garlic, 1 tsp coconut oil
1 x 400g tin aduki beans, 3 tbsp tahini, 1/2 lemon, pinch of salt and black pepper, 1 tbsp chipotle tabasco.
Wash and cube the raw beets (watch your clothes and surfaces) and place in a parchment parcel or on a baking tray. Crush and chop 3 cloves of garlic and sprinkle over beets. Melt 1 tsp coconut oil and mix to ensure everything is coated. Place in the preheated oven at 200 degrees for 45 minutes until roasted.
Blend this with all remaining ingredients in a food processor to make a pate, and serve.
Guacamole with Toasted Tortilla Wedges
There are a hundred ways to make a homemade guacamole. This is just one of them.
3 Ripe avocados
Half a small red onion
3 tbsp chopped coriander
2 garlic cloves, crushed with the back of a knife, but intact
1tsp cumin powder
1 lime
Black Pepper or chilli flakes and sea salt to season
Chop the red onion as finely as you can manage and place in a bowl. Halve the avocados and scoop the flesh into the bowl. With a fork, mash the ingredients together. Add the chopped coriander, the cumin powder, the juice of 1 lime, and the seasoning, and keep stirring and mashing with that fork. Finally, with the back of a knife, crush open the garlic cloves but try and keep the clove intact. You're basically just breaking them open and adding them to the bowl, stirring through. Before serving, remove these cloves.
Using 4-6 large tortilla discs, cut into soldiers or triangles and transfer onto 2 baking trays, placing in a preheated oven for 10 minutes until they start to brown and crisp ever so slightly. Transfer into a serving dish with the guacamole.