In Ireland, we do not, as a population, consume enough fibre averaging about 19g per day, when the optimum is more like 30g per day. While the numbers aren't terrible, our primary sources of fibre are breakfast cereals and bread, so that intake can often go hand in hand with increased intakes of added sugar, refined fat, and sodium. The association of adequate fibre intake with improved health and longevity has been demonstrated repeatedly - studies show that people who eat more fibre tend to live longer and healthier lives, tend to reduce their mortality from heart attack and stroke, and tend to reduce their risk of colorectal cancer. The data paints a clear picture, throughout the decades, and across different populations. Public health bodies around the world are finding ways to transmit that message effectively. 5-a-day is the most successful public health campaign in Ireland and the UK, and most of you will be familiar with this as a concept for increasing your fibre intake.
SuperTroopers, Ireland's first health home work club run by laya healthcare is another successful programme rolled out in Irish schools, teaching children the benefit of eating their fruits and veggies. As the message continues to get transmitted, finding exciting, non-beige ways of increasing our fibre intake is paramount. That's why the focus of this post is the nourish bowl.
Nourish bowls are sometimes referred to as buddha bowls or macro bowls, and are a visually striking way of preparing your meals. Although they may look fairly complex and labour-intensive, they are a natural progression of the concept of batch-cooking, which we focused on here. Think of them as Batch-Cooking 102. Nourish bowls contain a complete macronutrient profile of complex carbohydrate, lean protein, and healthy fat. And most significantly, they contain lots and lots of fibre, vitamins, and minerals, giving you an extra nutrient kick with each meal. The reason I love them so much is the combination of textures and temperatures. If you dislike salad bowls that are too cold, or have grown bored of stews that are too wet, Nourish Bowls allow you to have crunch plus mush, hot plus cold, wet plus dry, cooked plus raw, and any variation of this you choose.
Here is your 5 point checklist for preparing and assembling your nourish bowl.
Complex Carbs - Use brown rice, quinoa, wholewheat or gluten free pasta. Complex carbs provide slow-release energy that will fuel your day, as well as being a good source of B Vitamins and fibre.
Greens - raw or lightly steamed. Use rocket, spinach, kale, broccoli, sugar snaps. This is your source of iron, B vitamins (especially folate), calcium, magnesium, potassium, and fibre.
Colour plus Texture - use an array of different veggies and prepare them in a range of different ways. Lightly steam your cauliflower, boil it in water or roast it - then mix it with herbs. Chop your tomatoes raw, or roast them with garlic. Steam your carrots, or grate them raw. Grill your peppers, or julienne them raw. Steam your brussels sprouts or sauté them in olive oil. The point is, you can be as creative as you want with your veggies, but the less prep required, the quicker you'll put it all together.
Lean Protein - omnivore, vegetarian, vegan. You decide which protein source you want to use, but keep it lean and minimally processed. Grilled chicken, turkey breasts, smoked mackerel, tinned sardines, boiled or poached free-range eggs, halloumi, beans, lentils, hummus.
Healthy Fat. Whole monounsaturated and polyunsaturated fats are priority - avocado, seeds, hummus, nuts. Use refined fats such as olive oil and coconut oil sparingly and opt for unprocessed whole fats as the priority. This means when you consume your healthy fat, you also consume the added fibre and protein from the whole food.
Bottom Line: Fibre, fibre, fibre.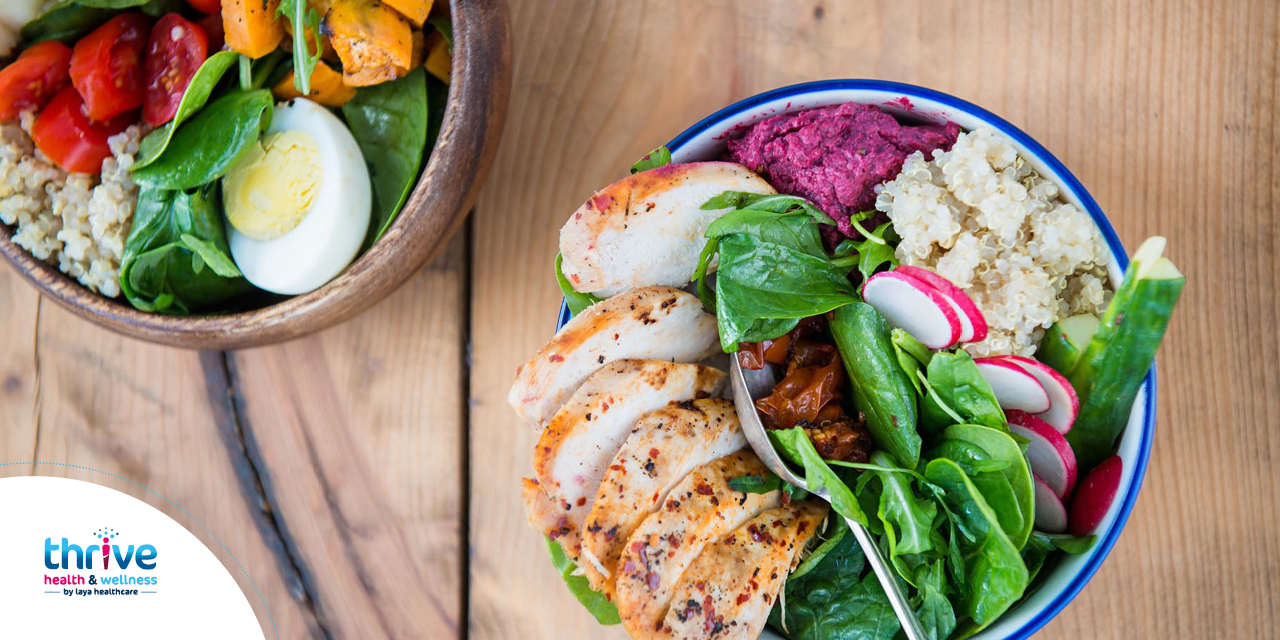 Mindful nourish bowls!
As with most of my nutrition recommendations, there are a couple of caveat boxes I want to check before signing off. I often create nourish bowls as a mindfulness exercise. I arrange the food in a bowl methodically, and it allows me time to slow down and be present before I eat. However, if I've worked a long day, 'mindful' just isn't on my radar. The food might be cooked and in the fridge, but it often gets slapped onto a plate with no more attention to detail than 'aim for the plate'. If assembling nourish bowls serves you positively, you'll love it. The colour, texture, temperature, and nutritional profile will make dinner time a creativity class, as well as allowing for some open-eyed meditation. If the mere thought of all this stresses you out, simply revert back to the main principles (increase your fibre, batch cook your food), but shed the perfect placement of the chickpeas next to the broccoli.
Waste now want not!
The other caveat is to do with food waste. Start modestly and buy 3 or 4 types of veggies or salad to prep. If you go gung-ho and buy bags and bags of food that you're not going to get around to eating, you might find the bin becomes a perish bowl, as all that wholesome food goes to waste. Finally, if you enjoy the experience and begin documenting it on social media, please tag me on Instagram @wildhealthy so I can see your creations, and you can see mine there too.
Recipe for delicious nourish bowls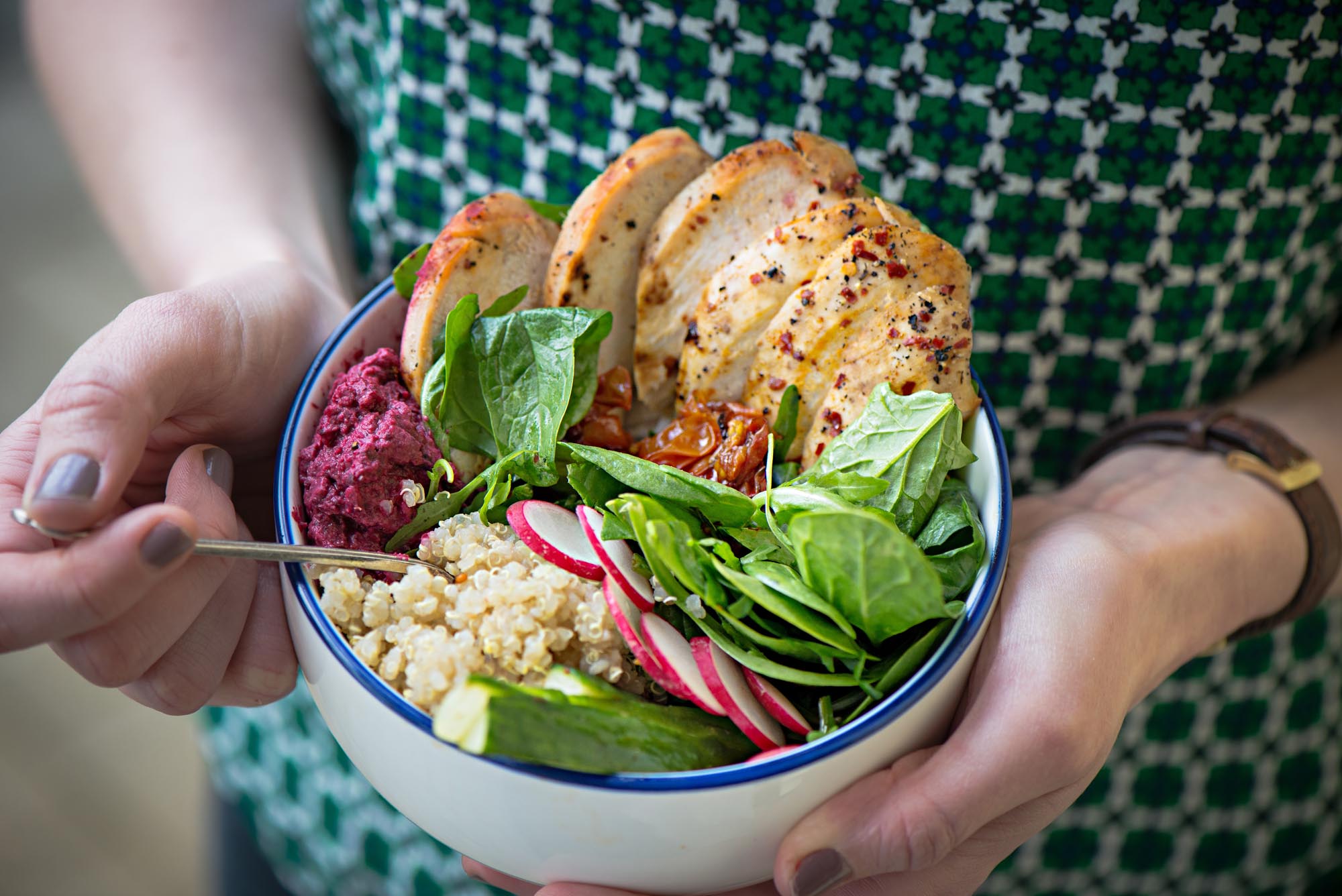 Selection of ingredients that can be added to your delicious nourish bowl (omnivore, veggie and vegan methods available in the above video)
Ensure to include complex carbohyddreates, lean protein and healthy fats in your nourish bowl.
Roasted sweet potato - use a little bit of olive oil and black peper, roast for 25 minutes
Roasted cauliflower - roast for 15minutes
Grains
Quinoa
Brown basmati rice
Greens
Animal Protein
Roasted chicken breast - with sundried tomato and chilli, roast for 30 minutes
Healthy Fats
Kidney beans and halloumi can also be added