Isn't it odd the way some people suffer with coughs and colds repeatedly, while others never seem to get sick? It seems like a bit of a lottery. But, leaving adaptive immunity and pure chance aside for now, the evidence exists that the way we eat is the key to developing a strong immune system. It is prudent to prepare yourself for the winter months by boosting your body's natural immune response. And because the majority of your immune system is located in your gut, it is particularly prudent to start there.
For more information on immunity, check out Carla's podcast here.
Probiotics and Prebiotics
Gut Associated Lymphoid Tissue (GALT) is the defence system that is based in the intestines. It is within this tissue that we create all the little cells that are essential to fighting pathogens like viruses and bacteria. Our gut terrain is one of the most important frontiers in our defence against invading pathogens. Beneficial bacteria offer protection against microbes that would otherwise cause colds and flu, and as we move deeper into the winter and into 'flu season', repopulating that terrain is paramount. A good quality probiotic supplement that has bacteria in the billions as well as multiple strains of lactobacilli and bifidobacteria is what to look out for. Prebiotics, then, are the foods that the bacteria themselves feed on, helping them to proliferate and colonise effectively. Naturally fibrous foods are great sources of prebiotics, so fill your plate with an array of veggies throughout the winter. Onions and garlic are also potent prebiotics, as is stewed apple, and can provide a feast for the little guys on the front line.
Garlic, Ginger, Turmeric
These foods are great for you immunity, because they include an array of important compounds that reduce inflammation and fight infection. Garlic is a natural anti-viral, as well as being a food source in itself for the beneficial bacteria. Ginger and turmeric contain potent properties that reduce inflammation, and are particularly helpful if you have a respiratory tract infection, like a cough or a sniffle, as they will assist in reducing the inflammation associated with those conditions throughout the mucosal membrane of the respiratory tract.
Chilli
A fabulous decongestant. If you're really stuffed up, adding dried chilli flakes or chopped fresh chillis to soups and sandwiches will release a flow of mucous, and provide some relief from pressure in the sinuses.
Garlic, Ginger and Turmeric are all great ingredients to boost your immunity.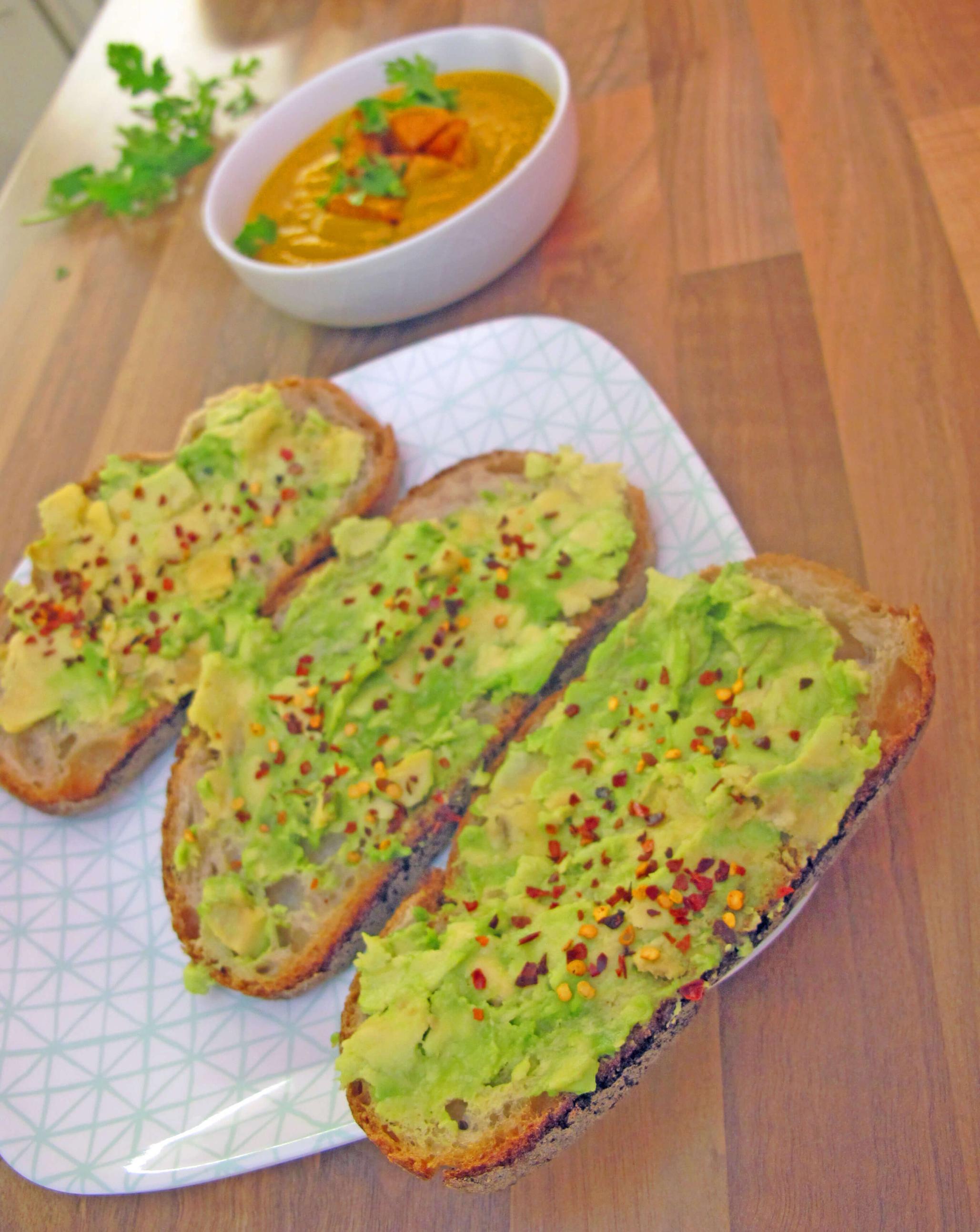 Putting It All Together: Stewp.
The recipe for this week's video is one of my favourite winter-warmers. I've called it a stewp, which is a mixture between a stew and a soup. It's really thick, although blended fully, and perfect for warding off infections, or helping you feel better if you've been laid up with cold or flu. It is full of nutritious ingredients, such as ginger, turmeric, and garlic, our anti-inflammatory and anti-viral agents, as well as packed with immune boosting anti-oxidants in the beta-carotene rich squash and sweet potato. The Vitamin E in the avocado is also a powerful anti-oxidant, and the chilli its topped with is rich in capsaicin to warm up and decongest that respiratory tract and get the mucous flowing.
Squash and Lentil Stewp
Ingredients:
500ml stock
1 butternut squash, peeled and cubed
1 sweet potato, peeled and cubed
2 cloves garlic
1 medium red onion
1 thumb size ginger
1 piece turmeric
1tsp cumin seeds
1 tsp ground coriander
fresh coriander to garnish
Directions:
Peel and cube the squash and sweet potato, chop the garlic, red onion, ginger and turmeric (watch your clothes). Add them to a soup maker with 500mls of stock and the rest of your dried spices and set to 'chunky'. If you don't own a soupmaker, use a heavy pot on the stove, bring to the boil, and then reduce to a simmer for a total of 30 minutes. Blend fully. The consistency should be very thick, half way between a soup and a stew. Top with little sweet potato cubes if you have them left over from your batch cooking.
Serve with one slice of sourdough with 1/4 avocado and fresh chilli or chilli flakes
Check out this week's associated podcast for further tips on boosting your immune system.
Follow us on Facebook and Twitter for more health and diet tips, advice and interesting case studies. Check back here next month for the next recipe from Carla Bredin of Wildhealthy nutrition. Explore our site for more information on health insurance options or to get a health insurance quote online today.